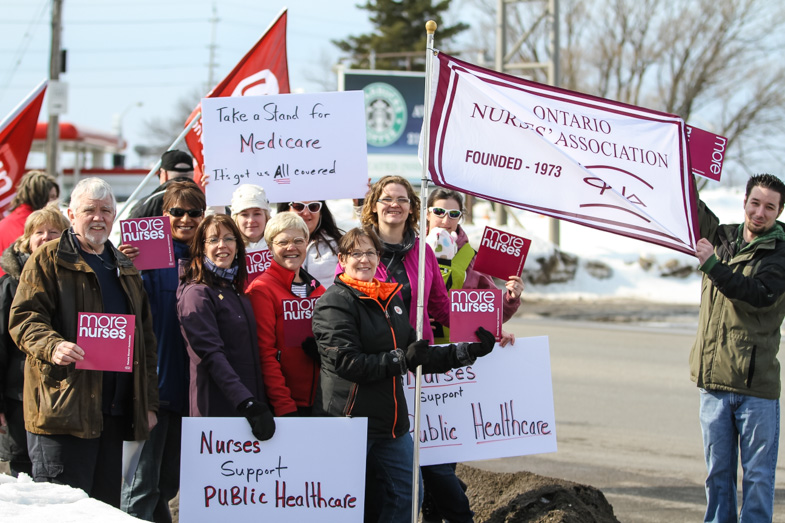 Yesterday marked the the expiration of the Canada Health Accord which, for the last decade, has enabled stable funding and health standards - including wait times, home health care provisions, and prescription medication - across the country.

Protests saw members of the Ontario Nurses' Association (ONA) and Unifor rally outside Sault Ste. Marie MPP David Orazietti's office, and CUPE members, along with other groups representing the health interests of Algoma's senior population, assembled in front of MP Bryan Hayes' office at 11 a.m.

Canadian health care providers are angered that the federal government has not taken steps to renegotiate the Canada Health Accord and fear its expiration will further damage and fragment the nation's already fragile health care system.

In a release issued last week by ONA, President Linda Haslam-Stroud stated: "Ontarians deserve the same high-quality health care as every other Canadian, yet Ontario - the most populous province in the country - has just seven RNs per 1,000 Ontarians. We need to hire 17,500 more RNs in Ontario just to catch up to the other provinces, and yet we saw the loss of some 1,000 RN jobs since 2012."

"Our ability to address that grievous gap in nursing care is predicated on the federal government's equitable funding of the provinces," she continued. "While Ontario has to address a budgetary freeze for health care funding that has undercut our ability to attract and retain experienced RNs, the federal government bears a responsibility for shortchanging the provinces."

Locally, recent cut-backs at the Community Care Access Centre, including senior patient care and home health care provisions, and an inadequate number of beds at the Sault Area Hospital, put additional strain on area health care providers and their patients, said the protesters.

"Since the Liberals have been in power, they have not added any long-term care beds in Algoma," David Harasymiw, chair of the Sault Ste. Marie Health Coalition, told SooToday.com.

He said many area seniors will avoid seeking medical care for fear of becoming a 'bed-blocker' at our already deficient Sault Area Hospital.

"Everything is happening on the backs of our seniors who actually built this place, and they put money into the hospital. What are they getting for it? They're getting a two-inch foam stretcher in the emergency department."

In response to these protests concerning what is perceived to be a "proliferation of private clinics" in Ontario, Orazietti told SooToday.com Monday he was concerned but not surprised by the protests.

"This goes back to when we talked about construction of the new hospital."

"Everyone knows their OHIP card still works at Sault Area Hospital, so a lot of the fear mongering that was being done by the Health Coalition then was just that [fear mongering]," Orazietti said. "Public health care is a primary focus with respect to our government…we have substantially increased funding for public health care."

He stressed that one of the first things the Liberal Party did in Ontario was pass legislation that reinforced its commitment to public health care.

Orazietti cited the building of the new Sault Area Hospital, the introduction of radiation therapy services to Sault Ste. Marie, an increase in the number of doctors practicing in Algoma as a result of the Northern Ontario School of Medicine, and our new nurse practitioner clinic as examples of this commitment.

"Yes, there is more work to do, there is increasing pressure on our health care system given the demographics in Northern Ontario and across the province, but there are no efforts whatsoever by our government to undermine public health care or introduce some form of private healthcare," he stated.

Orazietti said the federal government needs to do more to support Ontario's health care system.

"When $641 million was taken away [by the federal government] in transfer payments to Ontario, that has an impact on our ability to deliver services in healthcare, education or infrastructure," he explained. "The federal government committed to six percent healthcare funding and they haven't lived up to that, they're funding at three percent."
Monday's rallies took place as Orazietti accompanied Ontario Premier Kathleen Wynne on her tour of Sault Ste. Marie which included stops at the Soo Curlers Association, Francis H. Clergue Public School, and Algoma University.