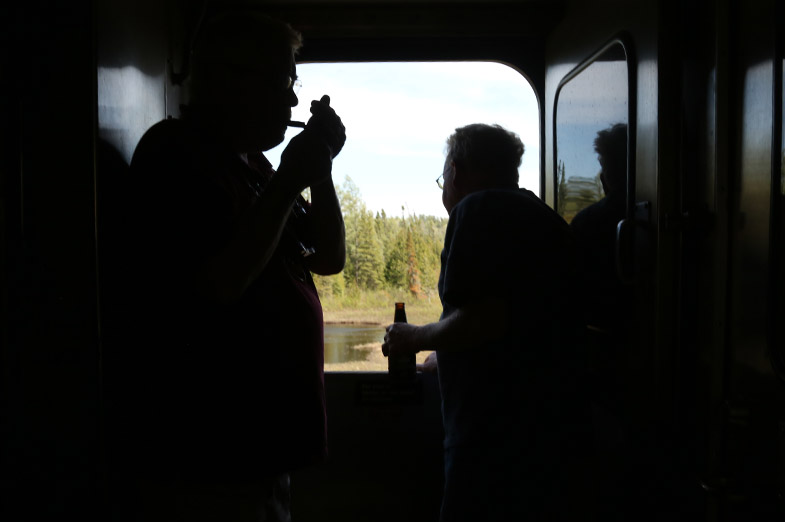 The president and CEO of the company that has signed an agreement to operate the Algoma Central Railway passenger service says it would be a shame if his plans for the service never see the light of day.
"Instead of the ACR train doing 6,000 people a year it could do 26,000 people a year," said B. Allen Brown, president and CEO of Railmark Holdings, Inc. when reached by phone Tuesday.
That would be more passengers than the total ridership for the line for the four years between 2010 and 2013, according to a BDO study commissioned by Algoma Central Railway Passenger Service Working Group.
The federal government pulled its $2.2-million annual subsidy for the local passenger service last year and earlier this month CN and Railmark announced they had signed an agreement for third-party operation of the service.
Brown said there are only three choices to save the train: maintain the current $2.2-million subsidy, quadruple the numbers of residents who live along the line, or his plans which involve a $7-million subsidy over five years.
Brown's ambitious plans for the ACR include building new stations in Sault Ste. Marie and Searchmont and purchasing additional baggage cars for the service to accommodate additional snowmobiles, a segment of the market he sees as a potential area for growth.
"You can't grow the amount of snowmobiles with only two baggage cars," he said.
He said he also plans on running special event trains, such as dinner trains and children's trains, starting in August and plans for the Agawa Canyon Tour Train to begin its operating season in June.
Brown said he already has staff working on marketing the trains to American tourists, who he feels haven't been targeted aggressively enough in the past.
"The American market is stronger today with the Canadian dollar and with more people looking for quality experiences. That is why us (Railmark) being American, being from Michigan and being aware of the train tour market, will be instrumental in helping us drive new traffic there," he said.
Brown also plans to lay additional track along-side the proposed station at Searchmont and the existing station at Hawk Junction to allow cars to be pre-boarded, lessening wait times.
"He (Brown) understands how to run trains," said Tom Dodds, president and CEO of the Sault Ste. Marie Economic Development Corporation and a key member of the working group.
Dodds said everyone is playing the waiting game as Transport Canada decides whether or not to accept Railmark's proposal, which involved a $7-million government subsidy over five years.
"We understand Transport Canada staff have made a recommendation to the Minister, so it is in the Minister's hands," said Dodds.
He added that even if Transport Canada agrees to the proposal before the March 31 deadline, Brown's company may not be cleared to run the trains until they receive certification to do so.
Dodds said CN could choose to continue operating the passenger service in the interim, but he expects it would want a clear commitment from the government and Railmark, as well as financial compensation.
"It's a bit of a process and related to safety. We all want that done correctly," said Dodds.
Brown said the ACR could run on reduced service during the month of April, as ridership is traditionally low during that month.
"It's not as mission-critical in April as it is in May. You could almost get away with one train up and one train back per week in this particular month," he said.
Brown said most of his time since the end of last year has been spent on this deal with CN, which led to the abandonment of his company's closed dinner train in Columbia, Missouri.
"I am going to move the train out of there but I'm working on other things first, which is this," said Brown.
The Columbia Star Dinner Train, run until recently by Brown operating under the company name Train Travel, Inc., closed last December when the city of Columbia cancelled its contract.
The city of Columbia and Brown differ over the reasons for the Columbia Star's demise.
Brown acknowledges the business ran into problems he says were a result of a failed merger between his companies Railmark Holdings, Inc and Train Travel, Inc., and Florida-based TGB Holdings Corporation.
The city of Columbia puts the dinner train's demise on Brown and is holding the company's dinner train assets until unpaid bills are settled.
"I wasn't giving those guys the time of day because I was putting all of my focus on this (ACR)," said Brown.
(PHOTO: American tourists smoke and drink beer in the vestibule of a passenger car as the ACR train makes its 100th anniversary voyage from Sault Ste. Marie, Ont. to Hearst, Ont. on May 31, 2014. Kenneth Armstrong/SooToday.com)