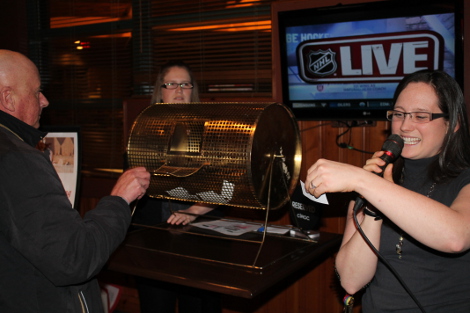 Hayley and Brandon Campbell of Sault Ste. Marie are the winners of a $3,000 Dream Vacation courtesy of The Pavilion at Algoma's Water Tower Inn & Suites and Maritime Travel.
Algoma's Water Tower Inn Marketing Manager Jamie Hilsinger (pictured) pulled the winning couple's names out of the drum at Friday's draw, held at the Water Tower Pub.
The couple was one of 25 registered in the draw.
Any couple who held their wedding reception in The Pavilion in 2013 was automatically eligible to win.
The $3,000 Maritime Travel Gift Card can be used towards travel anywhere in the world.
Another registered couple, Amy and Terry Reid, won a one-night stay at the Algoma's Water Tower Inn Governor-General Suite.
The Campbells held their wedding reception in The Pavilion after their April 27, 2013 wedding.
The young couple, in their mid 20s, was unable to attend Friday's draw, as they both had work commitments.
Hayley works for Child Care Algoma, while Brandon is a carpenter.
Brianna Carlson, a friend of Hayley, notified her of the win by cellphone.
Speaking to SooToday.com by telephone, Hayley said: "I was so excited, we both were."
"We're expecting a baby in April, so we won't go away anywhere soon, but we were talking about where we might like to go."
"I would like to go to Europe, or another beach (the couple honeymooned in Aruba)."
This is the second year the Dream Vacation Contest has been organized by Algoma's Water Tower Inn & Suites.
Last year's winners were Amanda and Mike Kreutzweiser, who enjoyed a second honeymoon in Italy.