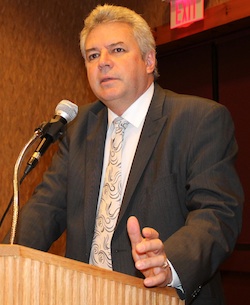 NEWS RELEASE
BRYAN HAYES, SAULT MP
*************************
OTTAWA – Bryan Hayes, Member of Parliament for Sault Ste. Marie, today made the following statement on the sudden passing of Jim Flaherty:
"It is with profound sadness that I offer condolences to family and friends of the late Honourable Jim Flaherty, who left us all so suddenly yesterday. It was very emotional to witness first-hand the genuine grief that overwhelmed my colleagues in the lobby yesterday when we all heard of Jim`s passing. It was something none of those whom were there will ever forget.
Members from all parties were shocked and saddened, and I would like to acknowledge all members of the opposition who crossed the floor of the House of Commons and extended heart-felt condolences to those who knew Jim so well.
He was a superb man, who listened attentively to the concerns of all Canadians, and I am proud to say he actioned concerns that were brought forward by constituents in the Sault Ste. Marie Riding.
We should all be so blessed to be so loved. To his wife Christine, and sons Quinn, Galen and John, I extend my deepest sympathies. May he rest in peace."
*************************