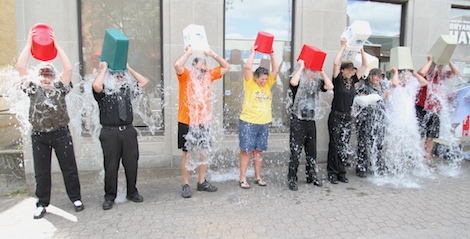 The challenge was issued and Sault Set. Marie MP Bryan Hayes gladly accepted.

On Tuesday, August 26 after completing his ALS Ice Bucket Challenge at Service Rentals on Sackville Road, Tyler Chindamo (marketing and sales coordinator for the Soo Thunderbirds) called out our MP to do the same.

Thursday afternoon in front of his Queen Street office, Hayes and his staff, representatives from two local Tim Horton's franchises, and John Martella, district manager with Green For Life Environmental, felt the chill of getting wet for a good cause.

"It's important to me," said Hayes of the challenge. "A good colleague of mine… Dan McColl passed away from ALS, so I do this today in support of Dan McColl and his family."

"It's a unique idea and I hope to see something like this for other endeavours along the way," he continued. "It's pretty cool and I'm excited to be a part of it."

Following today's challenge, Hayes nominated his Ottawa office staff, Nipissing-Timiskaming MP Jay Aspin, Kenora MP Greg Rickford, and Minister Tony Clement.

Ryan DiTommaso, representing Tim Horton's Great Northern Road and Farewell Terrace, called out Krysten DiTommaso and Brent Edwards of the Bulk Barn, and Dan Bill and crew from Wendy's Restaurant on Great Northern Road.

"It's a good cause, the money goes to a great place and we like to show our community support," said DiTommaso. "It was really cold, but well worth it. I'm glad we did it."

At the time of publication, ALS Canada had surpassed it's $10 million fundraising goal by $588,239.

To make a contribution or learn more about ALS Canada, please click here.