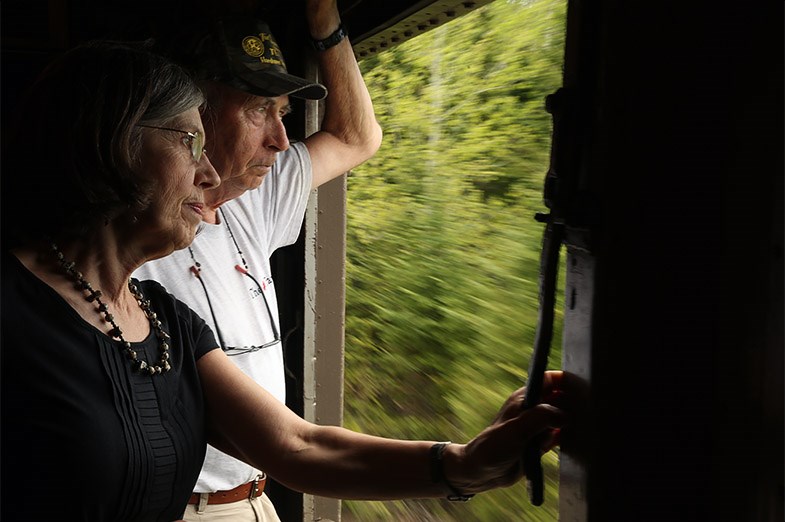 A fur trapper who relies on the Algoma Central Railway (ACR) passenger train to access his trap line says he will lose his winter income if service isn't restored in the near future.
George Karasek has been running a trapline on Oba Lake since 1982, trapping beaver, muskrat, martin, mink, fox, wolf and bear, among other animals.
Now 73 years old, he had been considering selling the trapline as part of his retirement plan.
"I'm at the age I was thinking of stepping back and maybe turn it over to someone else. Just when I made up my mind they cancelled the train," said Karasek.
He is unable to sell his three camps along the trapline — which has been harvested for more than 100 years — because he is unable to show them to interested parties.
"If you are trying to sell a car, someone wants to come see it and maybe drive it. My idea was maybe take somebody with me, show them the trails and the lakes — I own 11 boats. I have boats in remote lakes and own nine outboard motors," said Karasek.
He added, "How are you going to sell it if you can't show it to somebody?"
Karasek said he had 70 responses to an ad he placed for the camps, but most people interested have no concept of just how remote it is.
Only once has Karasek ever found evidence of someone being at his camp when he was not there.
"Once I found a cigarette butt on my dock. That's it, the only interference I ever found by a stranger," he said.
Karasek said the government has told him what to do if the trapline is no longer being used.
"If I can not trap then I have to burn my camps. I cannot burn a camp in the summer time — it will start a forest fire — and how the hell are you going to burn your camp in the winter if you can't get there?"
He added, "I'm stuck. I cannot move."
"They say 'You can fly.' Have you ever seen a float plane in November?" he asked rhetorically.
Karasek retired from the ACR in 1995 with a partial pension after putting in 26 years with the company, and uses trapping to supplement that pension.
"It will make a big difference if I can't trap," he said.
Most fur trapping occurs in the months of November and December.
Besides using the train to access his trapline, Karasek uses it to transport his harvested furs to his home in Wawa.
Karasek is also lamenting his lack of excercise from not trapping.
"I'm looking forward to getting back in the bush to lose some weight," he said.
Previous SooToday coverage of this story:
The Little Engine That Could meets government bureaucracy
UK rail expert guy takes train. Tells us what he thinks
(FILE PHOTO: Coalition for Algoma Passenger Trains (CAPT) co-chair Dr. Linda Savory Gordon and trapper George Karasek look out the open side of a baggage car on the Algoma Central Railway's 100th anniversary voyage from Sault Ste. Marie, Ont. to Hearst, Ont. May 31, 2014. Karasek maintains a trapline near Oba, Ont. SooToday.com/Kenneth Armstrong)