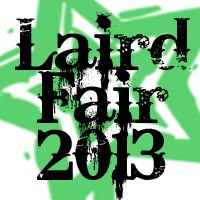 NEWS RELEASE
2013 LAIRD FAIR
***************************
Important updates regarding upcoming Laird Fair Ham and Bean Dinner
Echo Bay, ON – (February 7, 2013) - The North Shore Agricultural Society would like to announCce that their annual Ham & Bean Dinner will be held on March 2, 2013 at the Bar River Hall; not February 23, 2013 as was previously announced.
We would like to sincerely apologize for any confusion and inconvenience this may have caused for our potential attendees.
In addition to providing a delicious home cooked meal, the North Shore Agricultural Society is proud to announce that local musicians, The O'Schraves, will be performing at the dinner to entertain attendees.
The O'Schraves, comprised of Pat O'Gorman, Julie Schryer, and their three talented children, each of whom play a variety of traditional instruments, play a host of traditional Irish and Celtic music that is sure to entertain attendees of all ages.
Please come out to support the 2013 Laird Fair.
We look forward to seeing everyone out again for another great year.
Check us out on the web @ www.lairdfair.com, on Facebook @ www.facebook.com/TheLairdFair, or on Twitter @ www.twitter.com/LairdFair.
About Laird Fair
The annual Laird Fair has been a tradition in Laird Township since the 1880s. It is held every year during the third weekend of August, and includes events and activities that appeal to both newcomers and regulars of all ages including displays, horse shows, tractor pulls, and local bands and entertainment amongst many others.
Everyone is welcome to come out and take part either as a participant or an observer in all the festivities.
*************************