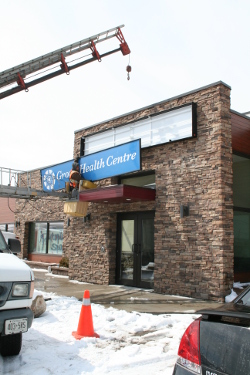 NEWS RELEASE
GROUP HEALTH CENTRE
************************
Obstetricians and Gynaecologists will be the first to practice at the new facility
The Group Health Centre is pleased to announce that 773 Great Northern Road – directly across from the Lukenda Drive entrance to the Sault Area Hospital – will soon become home to the Centre's Obstetrics and Gynaecology Department.
Until the new facilities are ready in early June, the department will continue to practice at their current location (240 McNabb, 3rd floor).
The department includes Dr. P.N. Fam, Dr H. Gupta, Dr. M. Lingurar, Dr. P.A. Zehr, and Nurse Practitioner Julie Briglio.
Selecting Obstetrics and Gynaecology as the first to move to the Group Health Centre's newest building was an easy choice: last year, alone, Sault Ste. Marie Obstetricians and Gynecologists delivered almost 1000 babies.
The new building's convenient location will ensure that, when called to the Sault Area Hospital, these busy doctors will only have to travel 500 metres to get there.
"We are excited about this move," said Dr. Zehr – one of Group Health Centre's Obstetricians and Gynaecologists. "Close proximity to the hospital will enhance timely access to Labour and Delivery, as well as the emergency room for urgent calls. We hope that this will also be reflected in providing a shorter wait time and support continuing comprehensive care for our clinic patients."
The Group Health Centre Trust Fund has launched a new campaign, raising funds to help offset the cost of preparing the new facilities and purchasing the required medical equipment.
Those interested in making a contribution should contact the Group Health Centre Trust Fund office at 705-759-5530.
The Group Health Centre serves over 71,000 Sault Ste. Marie and Algoma District residents, and is the leader in providing quality outpatient service and care with high patient satisfaction.
************************