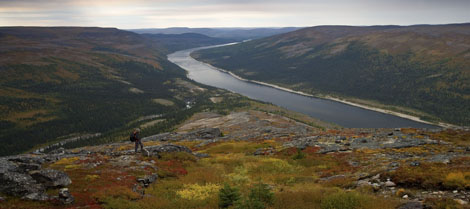 Editor's note: the photo above, by Gary McGuffin, was taken during a trip Lac Attikamagen east of Schefferville, Quebec, to Nain, Labrador, in 2009 and is for illustration purposes.
The Noatak River is about 400 river miles of pristine wilderness and home to the largest population of Grizzly bears anywhere in the world, says local wilderness photographer, conservationist and adventurer Gary McGuffin.
McGuffin and five others landed in Bettles, Alaska, just a few days ago.
They`ll be on the river by now, and they`ll paddling Pakboats folding canoes down stream to make their trip a total of 28 days.
"The river is very high," said McGuffin last week before flying out of Kincheloe airport.
That's a good thing because there are less chances the group will ground out any canoes.
They'll have flown from Bettles to the sourcewaters of the Noatak River - a rich, plentiful and unpredictable watershed flowing from the sharp double peaks of Mount Igikpak and the area around it in the majestic Brooks Range.
The river's course is all above the arctic circle and begins in sharp canyons then winds its way over 400-plus river miles to the sea.
It's level tends to rise and fall quickly, depending on how much rain has fallen in the area.
"People camped on the river bank or a gravel bar have had to get up and move their campsites two or three times during a night of rising waters," said McGuffin. "It can be quite dramatic."
Getting ready to go
Preparations for the trip have been complex and daunting.
In addition to planning meals for six people for 28 days, Gary and Joanie McGuffin had to consider how that food would be carried on the river and how it would get to the river.
It`s not like the adventurers could just run back for something if anything were forgotten.
The McGuffins sent about two dozen packages of food, equipment and supplies on ahead.
There wouldn`t have been room for all six adventurers, their food and their gear in the small float-plane that is the only way to get from the airport at Bettles to the launching point at the headwaters of the Noatak River in the Brooks Range.
At the river bank the adventurers took some time to assemble and pack the canoes before setting out.
"There comes a point where you`ve done all you can do and it`s time to get out there," said Gary McGuffin the day before he left for Kincheloe.
The glint of anticipation in his eyes was unmistakeable as he described the river.
"It`s where we love to be," he said. "All the stress just falls away as we dip our paddles in the river for the first strokes of the journey."
McGuffin is armed with about $10,000 worth of Canon camera equipment and the other five members of the expedition team are carrying the tools of their own particular art discaplines.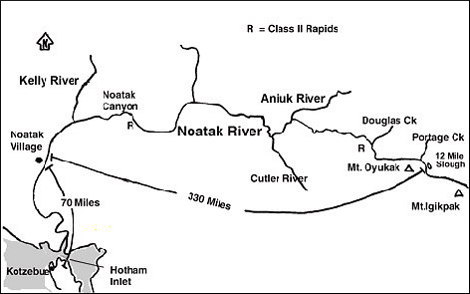 The draw
The landscape changes gradually from mountainous tundra to a large, windy basin; from broad canyons to mixed boreal forests, said McGuffin.
That`s what brought him up to the river.
The boreal forests.
Much of river system passes through natural preserves and is mainly undisturbed by human activity, he said.
This means the wildlife has less fear of people than in other boreal forests.
It also means the Noatak river and it`s watersheds is one of the few biosphere reserves used as a benchmark for measuring global ecological change.
It`s giving McGuffin and his fellow adventurers a standard for what the boreal forests in the area around the Great Lakes could be - might have been before humans so drastically altered the forest.
He and the five artist joining him for the artventure, as they like to call it, are expecting to see plenty of wildlife including grizzly bears, dall sheep, and many caribou as the herds cross the tundra for their annual migration in August.
The adventurers
Three of the six team members are very seasoned paddlers who have enjoyed many long trips together.
Gary McGuffin and Rob Mullen have been artventuring together with the Wilderness River Expedition Art Foundation (WREAF) since 2005.
Mullen founded WREAF in 2001 with its maiden voyage on the Missinaibi River.
It was incorporated in February 2005, "to mobilize artists in a unique way to contribute to the public discussion of conservation," says its website. "Combining art and science with adventure, WREAF works to provide artists with intimate, intense and "real" experience of wilderness to inspire their work, and the strength of numbers and prestigious venues within which to participate in the public dialogue. Working with Mad River Canoe, Eureka Canada and others, WREAF organizes wilderness art expeditions and group shows by expedition artists."
Mullen is, himself, an accomplished, talented and award-winning painter.
He brings 25 years of wilderness canoing experience, a biology degree and a deep love for the world's wild spaces to the expidition.
McGuffin is the photography half of the dynamic team of local wilderness adventurers, conservationists and activists Joani and Gary McGuffin.
Together he and Joannie have published eight best-selling books chronicaling and illustrating their adventures through the years, beginning with Where the Rivers Run, which was first published in 1988.
It chronicled their amazing two-year, 6,000 mile, 10,000 paddle stroke journey across Canada by canoe.
The pair were also honoured with one of the first Maple Leaves on Sault Ste. Marie's Walk of Fame in 2006.
Bob Hansen is the third member of the expidition crew with more than a few miles of paddling under his belt.
He's a long time paddling companion of McGuffin and the official bard on the crew.
"He's brought his guitar and he's making up a song as we go along," said McGuffin.
The other three adventurers on the expidition have less experience in wilderness, canoing experience.
Linda Besse is a Signature Member of the Society of Animal Artists and she is also a member of Oil Painters of America and the International Guild of Realism.
She has travelled to every state in the United States and 30 other countries on all seven continents to gather reference materials for her paintings.
Sandy Scott is a near 70-year old award-winning animal sculptor who works in bronze.
She is an she is an avid outdoorswoman who loves to hunt and fish and she believes wildlife artists should be in the field to accurately present their subject to the viewer.
Trish Smith is also an artist and has worked closely with Scott for many years as her studio partner, business manager and fellow adventurer in backcountry travel.
Gary McGuffin will be updating our readers regularly from the river so be sure to visit SooToday.com to travel along with McGuffin and the intrepid group of artventurers on the Noatak River for the month of August.