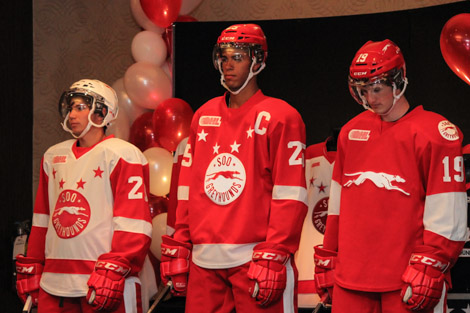 The Soo Greyhounds will have a slightly new look when the Ontario Hockey League regular season opens up on Sept. 19.
In front of a large group of season ticket holders on Sunday afternoon, the Greyhounds unveiled a new set of jerseys they will wear during the upcoming season. The re-design includes the traditional circle logo and colour scheme with some modifications of the jersey worn the past few seasons.
"With the two main jerseys, the key idea was to go back to just the red and white," said Greyhounds General Manager Kyle Dubas of the modifications. "We thought that was an important thing. It's who we are. That's where it all started. That's our history. We wanted it to be a real clean and simple look. We find that at times teams tinker with their jerseys over and over. The best uniforms in sports are the ones that are simple, clean, usually two colours and those are the ones that fans draw themselves to."
The team also unveiled a red third jersey that features a white greyhound centered in a red jersey.
"If you go back and look at the (Greyhounds) jersey in the 1960's before the team was in the OHL, it's just the dog," said Dubas. "It's a great logo and that's what we are so we wanted to have something that was very simple, sharp and pure. The third jersey really hammers that home."
Photos by SooToday.com's Donna Hopper