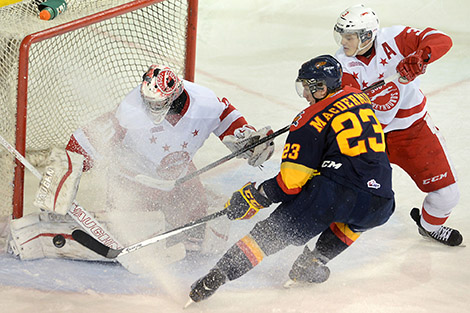 There are few tougher positions to be in than the one the Soo Greyhounds are in heading into game four of their Western Conference semi-final series with the Erie Otters.
With a 2-0 loss in Erie on Monday night, the Greyhounds now trail the Ontario Hockey League playoff series 3-0.
"Overall our game was better tonight," said Greyhounds coach Sheldon Keefe. "It was our best game of the series thus far but obviously not quite where it needed to be given that it didn't change the result."
The Greyhounds have now gone over 120 minutes without a goal in the series with Erie goaltender Devin Williams stopping 29 shots on Monday night for his second consecutive shutout. Williams has given up just one goal in the series.
"It's pretty clear that he's played well, you can just look at his stats for that," said Keefe of Williams. "At the same time, I don't coach the goalie, I coach the shooters and we have not been shooting well enough. We've made a lot of things really easy on him. We've put pucks in bad areas and shooting at his strengths instead of his weaknesses that we talked about. Our execution has not been very good. He's had a pretty easy series."
The Greyhounds had an opportunity in the second period when Kurtis MacDermid and Dane Fox of the Otters took delay of game penalties 30 seconds apart to give the Greyhounds a 5-on-3 man advantage.
"We had a couple of looks late in the 5-on-3 but overall I thought the 5-on-3 was poorly executed," said Keefe. "We just didn't execute very well on it at all. We haven't had any luck offensively at all in the series. Sometimes you have to make your own luck."
Troy Donnay had the eventual game winner when his shot from the slot found its way past Matt Murray through a screen in front in the second period and Andre Burakovsky sealed the win with 1:16 left in the game with a breakaway marker.
"We played a good second period overall," said Keefe. "Both in the first and the second, we just couldn't get one to go in. That's been the story of this series in that we can't get one to go in. Defensively we didn't give up a lot for the most part. We kept their best offensive players off the scoresheet."
For the Greyhounds, Murray made 29 saves in the loss.
"He was fine and I don't think he was very overwhelmed," said Keefe of Murray. "He made good saves early in the game. In the second and third periods a lot of pucks were thrown at the net from the perimeter. They played a pretty simple game, just trying to wind the clock down. I didn't think we gave them very much tonight but when we did Matt was good."
The Greyhounds lineup saw some changes for game three. Import forward Jorgen Karterud did not dress while veteran forward Bryan Moore missed the game due to a concussion. He is listed as being out indefinitely.
The Greyhounds will look to avoid elimination on Tuesday night in game four, scheduled for 7:05 p.m. at the Erie Insurance Arena.
Photos special to SooToday.com by Jack Hanrahan/Erie Times
To view video highlights of the game, click here