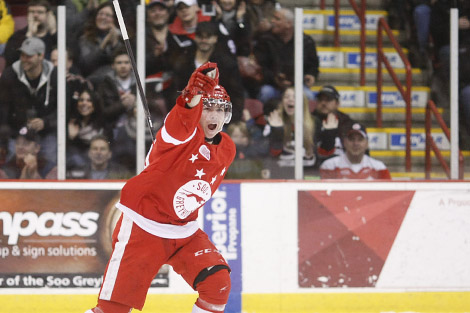 The Soo Greyhounds and Owen Sound Attack are heading into game three of their Western Conference quarter-final series pleased for different reasons.
The Greyhounds picked up a 7-3 win over the Attack in Ontario Hockey League playoff action on Saturday night at the Essar Centre, evening their best-of-7 series at one.
The game was a rebound one for the Greyhounds, who struggled defensively in the opener.
"The big part of our defending today was that we didn't defend very much," said Greyhounds coach Sheldon Keefe. "I'm not happy with the goals in the third period but to be up 6-1 in a playoff game it's pretty tough to get a lot out of the guys. They're just trying to get out of the game."
"With the puck we were better and had more purpose," said Keefe. "We hit the net and created rebounds, all the things you need to do to create offence against good, solid defensive teams. We came out with a lot of purpose and got it done."
Michael Bunting led the way offensively with a pair of goals for the Greyhounds in the win while Darnell Nurse set up three goals. Tyler Gaudet chipped in with a goal and an assist while Andrew Fritsch, Sergey Tolchinsky and Jean Dupuy also scored.
Goaltender Matt Murray stopped 15 shots for the Greyhounds.
Santino Centorame scored twice for Owen Sound while Justin Brack also scored. Brandon Hope got the start for the Attack, stopping 15 of 19 shots before being pulled. Jack Flinn would take over, also stopping 15 shots in the game.
"We weren't that good tonight," said Attack coach Greg Ireland. "They took a step forward and we took a step backward. As a result, we got what we deserved."
"As a team, we didn't work," said Ireland. "We didn't get to pucks, we didn't compete. Our team has been resilient all year and we even saw some of that tonight. We didn't generate a lot of shots but we put some goals up at the end."
Keefe noted the Greyhounds physical play in the win as a factor.
"The fact that we were physical is a better sense that we were on top of them faster and the puck was still there," said Keefe. "A lot of our contact was when the puck was still there and our second guy comes in and collects it. When we're being physical, it's because we're on top of them quickly and we're really getting after them and pressuring them."
The series now shifts to Owen Sound for game three on Monday and game four on Wednesday. Game five is Friday night in Sault Ste. Marie.
In other action on Saturday, the Erie Otters took a 2-0 series lead over the Saginaw Spirit with a 4-3 overtime win. Dane Fox had the overtime winner 2:12 into the extra frame. Fox had a pair of goals in the win while Connor McDavid set up three goals. Andre Burakovsky and Adam Pelech also scored in the win. Justin Sefton, Cody Payne and Luke Cairns scored for Saginaw. Jake Paterson stopped 38 shots.
In Guelph, Justin Nichols stopped all 30 shots he faced as the Guelph Storm blanked the Plymouth Whalers 3-0, taking a 2-0 series lead in the process. Zack Mitchell assisted on all three goals for Guelph while Matt Finn, Nick Ebert and Brock McGinn scored. Whalers goaltender Alex Nedeljkovic stopped 35 shots.
In London, Nikita Zadorov had two goals and two assists to lead the London Knights to a 6-3 win over the Windsor Spitfires. The Knights now lead the series 2-0. Chris Tierney had a goal and two assists while Max Domi and Bo Horvat had a goal and an assist each. Brett Welychka also scored for the Knights while Anthony Stolarz made 33 saves. Ben Johnson had a goal and an assist for Windsor while Nikita Yazkov and Brady Vail also scored. Spitfires goaltender Alex Fotinos made 47 saves.
In Barrie, the Barrie Colts took a 2-0 series lead over the Sudbury Wolves thanks to a Zach Hall overtime goal in a 4-3 Colts win. Hall had a pair of goals in the win. Jake Dotchin chipped in with a goal and an assist while Justin Scott also scored. Tyson Fawcett set up two goals. Ray Huether had a goal and an assist for Sudbury in the loss. Dominik Kahun and Mathew Campagna also scored for the Wolves. Nathan Pancel set up two goals in the loss.
Photos by SooToday.com's Kenneth Armstrong
Click here to watch video highlights of this game.