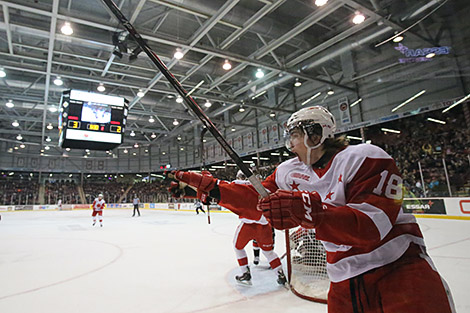 A five-game homestand came to an end for the Soo Greyhounds on Saturday night with their power play taking control of the offence.
The Greyhounds used three power play goals to pick up a 5-3 win over the Niagara IceDogs in Ontario Hockey League action on Saturday night at the Essar Centre.
The Greyhounds finished the night 3-for-5 on the man advantage in the win.
The offensive output was higher than the total output of the previous two games.

"In all three games this week we did a lot of good things with the puck and had a lot of possession time," said Greyhounds coach Sheldon Keefe. "There were a lot of good things but we just weren't finishing the offence. We were getting the opportunities and getting the zone time, but we were missing the open nets and hitting posts. When we're getting that kind of possession time and those kind of chances, we're not all that concerned about it. The nice thing is that even though we weren't scoring, we were getting saves and playing well defensively."
Defensively, the Greyhounds held the IceDogs high-scoring top line of Anthony DiFruscia, Brendan Perlini and Carter Verhaeghe to just one assist in the game. The Greyhounds line of Patrick Watling, Tyler Gaudet and Jean Dupuy saw much of the action against the line.
"Obviously that line is a big part of their success, if we can give that assignment to those guys and then have favorable matchups through the rest of the lineup, we thought it would be helpful for us," said Keefe. "They did well. Early in the game we gave them too much space. We talked about that and throughout the game we started to tighten up and not giving them much. That allowed us to wear down their other lines."
Said IceDogs coach Marty Williamson: "They did a great job on them," said Niagara coach Marty Williamson. "Neither team did a lot five-on-five. Specialty teams were a big factor and their depth. We showed a lot of grit and we're building this team to win and one of the most important things to build around is character. We showed it tonight even though we lost."
Sergey Tolchinsky led the offensive attack for the Greyhounds in the win with a goal and three assists, including a nifty feed from behind the net on Blake Speers' eventual game winner in the second period.
"He was great," Keefe said of Tolchinsky. "He's a real spark plug for our team. He was a spark offensively tonight. He made some great plays but we've come to expect big things from him offensively. We needed a spark offensively, particularly five-on-five, and he provided it."
Speers, Andrew Fritsch, and Jared McCann had a goal and an assist each for the Greyhounds in the win while defenceman Darnell Nurse also had a two-point night with a pair of assists. David Miller had the other goal for the Greyhounds.
"We're happy for getting rewarded," said Keefe. "There were a lot of good things happening this week. I don't feel like our game has changed. In fact, I think we've improved in some areas. Everybody else has gotten better but also, in the games this week, if we get a few of those pucks to fall in and win a game 4-1 or 5-2, everybody leaves and says 'Geez, the Greyhounds are playing great.' We're sticking with it. There's not a lot to be upset about but there's still things we need to improve on."
Brandon Halverson got the start for the Greyhounds and stopped 25 shots.
Eric Ming had a goal and an assist for the IceDogs in the loss while Vince Dunn and Aleksander Mikulovich also scored. Goaltender Brent Moran stopped 34 shots in the loss.
"He looks like the Matt Murray's when they were 17-years-old," said Williamson of Moran. "They're strong, big kids but they're gangly and they haven't quite got the power. All of a sudden, Matt Murray at 19 is one of the best goaltenders in the league. We have a good future goaltender for us."
Next up for the Greyhounds is four-straight games on the road, beginning Wednesday night against the London Knights.
To read SooToday.com's live blog from Saturday's game, click here.
For video highlights from Saturday night, click here.
For a full recap of all of Saturday's action around the OHL, click here.
Photos courtesy SooToday,com's Kenneth Armstrong