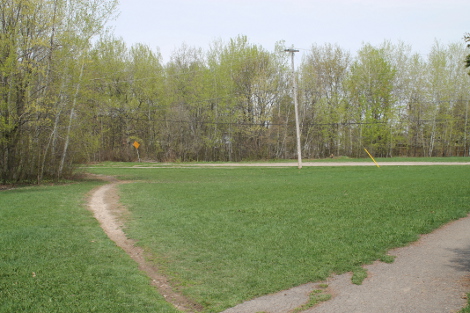 A local man's offer to donate funds towards the purchase of playground equipment for MacDonald Park (currently a green space at the west end of Marconi Street) has generated both interest from the City and considerable opposition from area residents.
Windsor Street resident Albert Williams offered $5,000 for playground equipment to the City of Sault Ste. Marie in August 2012, and is now willing to offer more after holding a charity hockey tournament fundraiser.
At the request of City Council, the Sault Ste. Marie Community Services Department held a public open house at the Civic Centre Tuesday to gather input.
Williams told SooToday.com Tuesday "it's already considered a park. Let's make it a real park. It would be good for my six-year-old daughter and other kids to meet there and play."
Williams said he asked for public support within his neighbourhood and stated "I only ran into two people who were opposed."
However, many are not sold on the proposal.
A Linstedt Street resident, with a neighbourhood petition of his own, told SooToday.com at Tuesday's meeting "most of the 57 residents who signed the petition, two thirds of them, are against this."
The resident told us "we already have an existing playground at River View School."
The Algoma District School Board (ADSB) school property, which has play equipment (which some consider outdated), is situated a stone's throw away from MacDonald Park.
"If swings are built at River View School by the existing playground, I think everybody would be happy, and it would be a minor expense compared to the expense involved with a playground at MacDonald Park, whether he (Williams) raised money for this or not."
The Lindstedt Street man added playgrounds within parks raise the possibility of drug dealing by youths and adults.
"There's the possibility of trouble at night," he said.
"I'm aware kids are already going through MacDonald Park now, but this gives them an added excuse to hang around. The older residents can't just shoo them away. It's going to be a backyard hangout. If there were no problems with this, all these residents wouldn't have signed this petition."
Marconi Street resident Harry Wynne told us Tuesday "I'm not against a better playground. What I am against is tearing up beautiful grassland. These days we're very conscious about being 'green.' Let's keep our grasslands as they are and simply take this new proposed equipment and add it to the existing playground at the school. That's my feeling," Wynne said.
Wynne added "that seems to be the prevailing feeling here at this meeting tonight."
Recreation and Culture Division Manager Joe Cain said "evidence suggests there's need for a playground."
"If you look at the area, there's only one park setting in that neighbourhood, and that's MacDonald Park, with no playground equipment."
"To the west there's a playground at Penhorwood Park, to the south there's a playground at Boston Avenue, and to the north there's Forest Glen and Forest Heights. We wouldn't want kids to cross main arteries to access a playground."
Cain added the River View School playground equipment is considered outdated.
"Mr. Williams," Cain said, "has offered money for playground equipment, so this is the site we're looking at."
Would Williams be willing to set up playground equipment at River View School with the ADSB's permission and leave MacDonald Park as an untouched green space?
"That could be an option. We'll see where this goes."
Input gathered from Tuesday's open house will be sent to the Parks and Recreation Advisory Committee (PRAC), which will prepare a report for Council's June 10 meeting.
It is estimated by the City that installation of a playground at MacDonald Park (with Council's approval), consisting of a play structure and swings, would cost $18,500.
Williams' donation of $5,000 would reduce the City's cost to $13,500.
It is estimated annual maintenance of the site would be approximately $1,035.