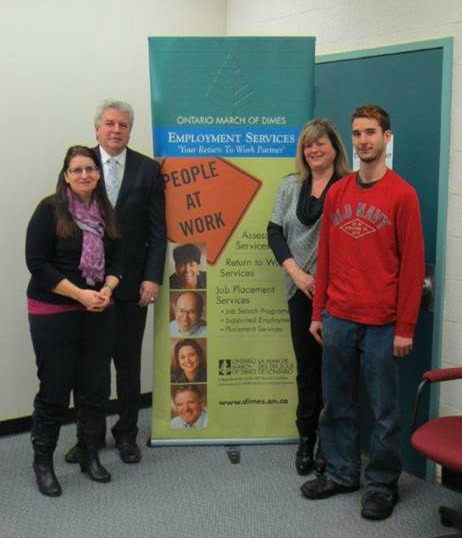 NEWS RELEASE
BRYAN HAYES, SAULT MP
*************************
Bryan Hayes, Member of Parliament for Sault Ste. Marie, on behalf of the Honourable Candice Bergen, Minister of State (Social Development), today announced support that will equip young Canadians in Sault Ste. Marie with the skills and work experience needed to get jobs.
"Our government is committed to creating jobs, economic growth and long-term prosperity all across Canada," said Minister of State Bergen.
"Initiatives like Skills Link will help connect youth with jobs while ensuring that Canada's economy benefits from the skills and talents of young Canadians. By investing in youth today, we are making sure they can contribute to our long-term prosperity."
"Since 2006, the Government has helped more than half a million young Canadians develop the skills they need to help them succeed in the job market," said MP Hayes. "I am pleased to announce that young Canadians in the Sault will benefit from our initiatives to connect young people with jobs."
Skills Link helps youth facing barriers to employment—including youth who are single parents, youth with disabilities, young newcomers and youth in rural and remote areas—to develop the skills and gain the experience needed to find a job or the confidence to return to school.
Since 2006, the Skills Link initiative has helped over 179 000 youth get jobs or return to school.
The March of Dimes is receiving more than $475,000 from the Skills Link program to help youth facing barriers to employment get the skills and knowledge they need to find jobs.
Over a 51 week period from February 17, 2014 to February 6, 2015, the March of Dimes' Rehabilitation Foundation for Disabled Persons will provide Group-based Employability Skills (GBES), Employability Skills through Work Experience (ESWE) and Work Experience (WE) to 48 youth with multiple barriers to employment in order to help them make a successful transition to the labour market or return to school.
"With this funding, the support of our community partners and local employers, and through activities that can be tailored to meet the individual needs of our youth facing barriers to employment, March of Dimes Canada is able to provide 48 youth with equal opportunity to gain valuable experience and make successful transitions into the labour market," said Joan E. Teresinski, Regional Employment Services Manager and Independent Living Attendant Services Program Manager for the March of Dimes.
Youth employment programs are part of the Government of Canada's strategy to connect Canadians with available jobs.
Economic Action Plan 2013 proposes new measures to equip Canadians with the skills and training they need to fill skills shortages and succeed in the Canadian labour market.
These include the Canada Job Grant, which will invest in skills training for unemployed and underemployed Canadians, better ensuring they are qualified to fill the high-quality, well-paying jobs that are available.
Economic Action Plan 2013 is also creating opportunities for apprentices and providing support to under-represented groups such as Canadians with disabilities, Aboriginal people, newcomers and youth.
To learn more about Canada's Economic Action Plan, visit actionplan.gc.ca.
The Government of Canada is helping youth plan their careers, learn new skills and find jobs through enhanced online services available at youth.gc.ca.
*************************