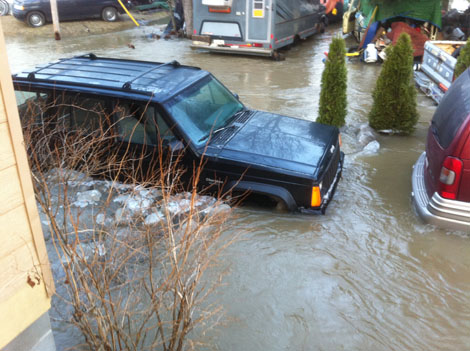 NEWS RELEASE
GOULAIS FIRE AND RESCUE
*************************
Goulais River flood preparedness

Goulais Fire and Rescue, along with other agencies, such as the OPP, MNR, MTO, Algoma Power Inc, and the Red Cross, would like to remind residents of Goulais River that spring is fast approaching.
As with every spring, the warmer weather brings with it the potential for flooding [2012 file photo shown] in areas within the flood plain of the Goulais River.
If you reside within these areas that are traditionally prone to flooding, please be aware of the potential risks to you and your family, and take necessary precautions in case flooding does occur.

Please be advised of the following information.

In the case of flooding, there may be disruption to normal services:

• Algoma Power will be notified of any water covered roads and may be required to shut off the power to entire neighbourhoods affected by flooding. This may impact people who depend on dialysis and ventilators for health reasons. In the event of power outages, ensure you are adequately equipped with the essentials (e.g. drinking water, candles, etc.). The use of generators as an alternate source of power can feed back to the system that was thought to be dead. This can put rescue personnel at risk.
• Occasionally, the police are obligated to close roads, or sections of roads due to flooding. On theses occasions, the OPP will not permit anyone to travel beyond an established barrier.
• Flood effected telephone lines may also be temporarily disconnected so that phone service will not become disrupted to the entire area.
• Your drinking water source may become contaminated. Ensure that you have clean drinking water available.
• It may be requested that you and your family leave your residence until the threat of flooding is over. Please cooperate; rescue is often a dangerous task to both the people being rescued and the rescuer as well. Evacuations will not be attempted at night. At all times the rescuers will act with discretion and rely on your cooperation.

The members of Goulais Fire and Rescue are your most important link in flood planning and response.
We are your neighbours and friends, and we appreciate your co-operation.

Know the risks, and be prepared.
For further information regarding Emergency Preparedness, please visit here and here.
*************************