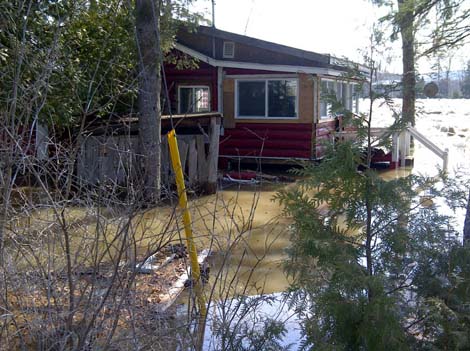 NEWS RELEASE
MINISTRY OF NATURAL RESOURCES
*************************
Goulais River Watershed Conditions Statement
(April 29, 2013) - Day time temperatures over this past weekend were between 15 - 20 degrees Celsius.
This warm weather has caused the remaining snow pack in the northern reaches of the Goulais River watershed to melt leading to increased water levels within the river.
The river is approaching flood levels [2012 file photo shown]
Over the next week the weather forecast is for daytime temperatures to be between 10 and 20 degrees Celsius.
The forecast is also calling for rain with cumulative rainfall totals of 20-30 mm for the next five days.
The consistently warm temperatures in the next five days will cause considerable snow melt.
This combined with the forecasted rain could lead to flood conditions.
Residents along the Goulais River should monitor conditions closely.
The full impacts of the snow melt and rain may not be felt for 24-48 hours as the water from the upper watershed moves downstream.
Please use extreme caution around water at this time of the year, as water levels on streams, rivers and lakes can change quickly.
The Ministry of Natural Resources continues to monitor river conditions and sensors.
As information becomes available this statement will be updated.
In the event of an emergency caused by flooding, residents should call 911 if they require assistance of emergency personnel.
*************************