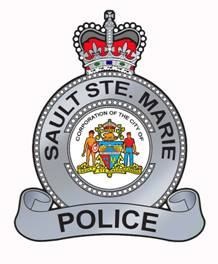 NEWS RELEASE

SAULT STE. MARIE
POLICE SERVICE

**************************
The Sault Ste. Marie Police Service would like to advise motorists that on Monday, May 12 Gore Street between Queen Street East and Albert Street East will be closed from 9:45 a.m. to 10:45 a.m. for the opening ceremonies for Police Week and the Neighbourhood Resource Centre.
Everyone can help fight crime in Sault Ste. Marie.
Everyone in Sault Ste. Marie can play a leadership role in making our community safer.
Today at 10 a.m. Chief Davies will officially launch Police Week 2014 at the Neighbourhood Resource Center on Gore Street.
Our partnership with the community is essential in preventing crime and making our citizens safer, Chief Davies said.
The police can't do it alone.
We need the support of every resident in our community on topics such as crime prevention programs and community policing.
The theme of Police Week 2014 in Ontario is Building Community Partnerships.
Police Week runs from May 11-17 nationally and recognizes the work that police officers do to keep their communities safe in Ontario and across Canada.
It includes local campaigns by police services that highlight important work in their communities with a focus on police professionalism, accountability and community engagement through social media.
Police Week 2014 will be marked in Sault Ste. Marie with the opening ceremonies taking place at the Neighbourhood Resource Centre at 138B Gore Street on May 12 at 10 a.m.
The Neighbourhood Resource Centre is an excellent example of community agencies working together to address the root causes of crime.
The Sault Ste. Marie Police Service has played a role in bringing the agencies together and has an officer assigned full time to the Centre.
From May 13 at 10 a.m. to May 15 at 9 p.m., citizens can attend the police week displays at the Station Mall.
Be sure to come down to the Station Mall and take the opportunity to speak to local officers from both sides of the Border.
Many agencies that work with the police to help make our community a safer place will also be in attendance.
We are grateful to the police and their community partners for all they do to keep our communities safe, said Yasir Naqvi, Ministry of Community Safety and Correctional Services.
**************************