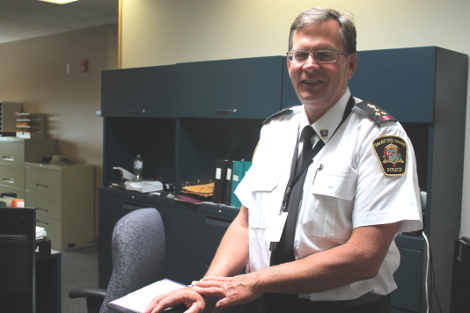 Robert Keetch, the new Sault Ste. Marie Police Service chief, is settling in to his new job.
"I've got 200 individuals that I'm going to work with in this organization so I've got to learn names and faces and learn about a whole new community, including our community partners, so that is a significant challenge," Keetch told SooToday.com after Wednesday's Sault Police Service board meeting, his first since being sworn in as chief June 16.
However, Keetch said Sault Police Service command staff have been a great source of help as he transitions into his new role.
Bob Davies, former Sault police chief, has assisted Keetch in the transition, and Keetch said he will be carrying on his predecessor's approach to addressing the root causes of crime in a compassionate, community-minded way while still taking a no-nonsense approach to law enforcement whenever necessary.
In fact, addressing the root causes of crime, such as working with community agencies to promote healthier lifestyle choices and education to prevent people from falling into crime, is a strategy that developed during Keetch's time as an inspector with Greater Sudbury police.
"That's one of the things that attracted me to the Sault and the chief's position…the work that was being done in Sudbury was under my command, so these are initiatives I believe very strongly in and I want to see them be successful and expanded in this community."
Success for the recently-opened Sault Police Gore Street satellite office, established to prevent crime in that area of the city, is a priority for Keetch, who said he would like to expand that initiative to other areas of the city.
"I used to describe it (areas such as Gore Street) as a disadvantaged neighbourhood but my philosophy has changed based on my work in Sudbury and now I would call it a neighbourhood of opportunity…police have the unique ability to bring neighbourhood residents and community partners together to address situations and achieve positive outcomes in a neighbourhood."
Still, Keetch said Sault Police will not hesitate to use traditional enforcement methods in cracking down on drug houses, property crimes and social disorder.
Keetch said he will not take a soft on crime approach, but a smart on crime approach.
"There are certain individuals, in the best interests of society, that should be charged and face consequences for their actions and there are other individuals who should be diverted to services that are offered…that's something that our officers are very good at doing in collaboration with community partners in assessing a situation."
"I believe strongly in investing in proactive initiatives to decrease risk factors that prevent victimization," Keetch said.