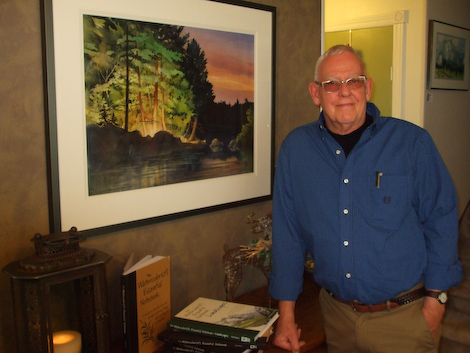 Well-known Sault artist, teacher and author, Gordon MacKenzie, is currently holding an art show and sale, his first in this community in 20 years, at his home at 75 Primrose Drive.

MacKenzie has 63 of his impressive and inspiring watercolours on display at the sale, which began Thursday evening and continued today, and will run Saturday 10 a.m. to 4 p.m., and Sunday 10 a.m. until noon.

Joining him is his daughter, Sandra MacKenzie-Oliver, also a painter, whose Christmas-themed artwork is on sale at Gordon's home this weekend.

"This is our first show together, father and daughter, which is nice," Gordon told SooToday.com. "When this show is over Sunday, I go to Toronto for the One of a Kind show. My brother is in it and he's an excellent carver. Art runs in the family."

Gordon said: "We opened Thursday night and saw quite a number of dear friends and neighbours, sales were good."

Why is this Gordon's first local show in 20 years?

And, why in his own home?

Gordon plainly stated that he feels there is no proper venue in Sault Ste. Marie for local artists to display their work.

"I know a lot of people in the city assume the Art Gallery of Algoma is there to support local artists. It's my feeling that the Art Gallery of Algoma should represent the artists of Algoma and at least half of that gallery should be given to local artists all the time, and the other half for bringing out-of-town artists in," Gordon said.

Gordon added: "The city did have a perfect space, the Centennial Room at the main branch of the Public Library, built for art display, but it was given away to the Library for offices and storage. So this is why I'm displaying in my home and why I haven't displayed locally in 20 years."

In that time, Gordon has kept painting and taught in workshops all over Canada, the U.S., France, Italy and Mexico, in addition to writing art instruction books.

Gordon notes: "In numerous other smaller cities and towns there are cultural centres where all the artists display their work, the visual artists, the dramatic artists, the 3D artists, it's their home."

He says: "The Arts Council does a good job of trying to promote visual artists, but there is no display space. It's like having all the drama clubs with no place to perform."

"There are places like art stores," Gordon continued, "but they are more like a combination of stores and a workspace."

Gordon has a definite idea of where he would like there to be a venue for local artists to display their work.

"St. Mary's College would be ideal," he said. "It has an auditorium for drama groups, pottery studios for the potters, art studios already for painters, classrooms for workshops."

Gordon says: "Once they (the Huron Superior Catholic District School Board) move into their new school, St. Mary's becomes surplus property for them. Other communities have done this with old schools.. I would like to pass this idea on to the Arts Council to consider."

As for Gordon's work, his watercolours clearly show his love of nature.

"Nature is like the big classroom," he states. "It's the reference point, it's the source. You go to nature and you see, you find, you take from it, you get inspired from that, and then you interpret that in your own way."

"Nature is the ultimate teacher. The architect learns from nature about structural design, the geologist learns about the forms and shapes, the forester sees the vegetation, everybody takes something different from it."

Gordon, now 73, was born in New Liskeard and taught art in other Northern Ontario communities before moving to Sault Ste. Marie.

He was an art teacher for the former Sault Ste. Marie Board of Education (now the Algoma District School Board) and eventually became Lead Consultant to the Board, and developed art programs for all different grade levels.

He retired in 1996.

Gordon has had many one-man shows in Sault Ste. Marie, throughout Ontario, western Canada and the U.S. and, since retiring, has travelled widely.

"I've gone with Canadian and American artists to France, Italy and Mexico, and I'm looking at Ireland or Scotland next. These are art adventures where we go to various countries, immerse ourselves in the culture, and paint what we discover."

You can check out Gordon's work here.