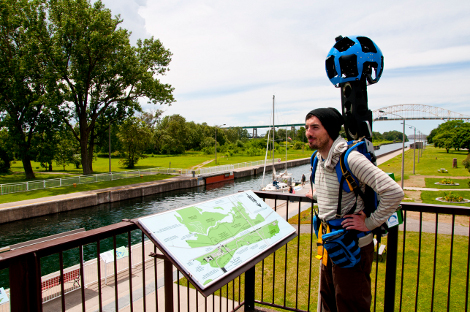 The federal government is currently partnering with Google Canada in enabling Canadians, and others around the world, to go online and view places of natural and cultural significance which fall under Parks Canada's jurisdiction.
For example, if you were at the Sault Canal last week, you may have seen this man (known as a Google Trekker) photographing the canal and the surrounding area.
The Google team, as part of the Parks Canada Google Street View Project, also photographed Pukaskwa National Park, the Fort St. Joseph National Historic Site and Lake Superior National Marine Conservation Area while in our region.
The Parks Canada Google Street View Project was launched last year, and the images captured by Google in our area will be put online with images of many other Parks Canada sites, such as the Fortress of Louisbourg, Pacific Rim National Park and the historic fortifications of Quebec City.
Google is still capturing images across the country and its work is anticipated to wrap up in the fall, Nancy Saunders, a Canada Parks public relations and communications officer, told SooToday.com.
"The objective of the project is to include these iconic destinations on Street View so that people can look at them virtually to help them in their trip planning, to see what the trails are like ahead of time, knowing what to expect," Saunders said.
"Or, if they can't make it to a particular place for whatever reason, they can enjoy seeing them online," Saunders said.
Saunders said "thousands" of images will be blended into a stream in which people can go on a virtual tour of these sites.
The Parks Canada Google Street View Project will be available for viewing online in another three to six months, Saunders said.
Parks Canada runs 44 national parks, 167 national historic sites, and four national marine conservation areas.
Photo courtesy Parks Canada and Google Street View Team