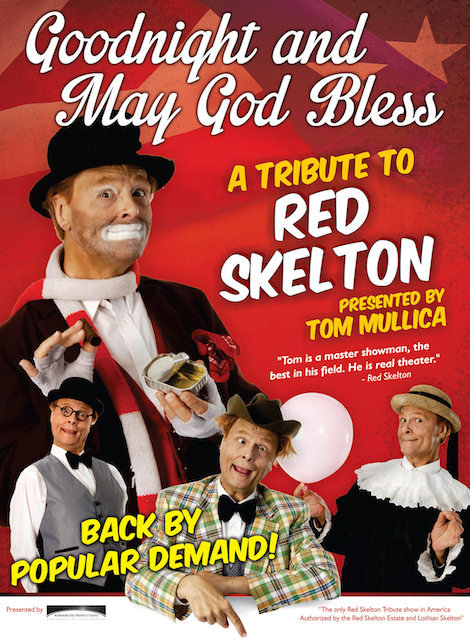 The man that Red Skelton himself referred to as "a master showman" and "the best in his field" has returned to Sault Ste. Marie for two performances.

Tom Mullica will stage Good Night and May God Bless - A Tribute to Red Skelton tonight (Tuesday, April 1) and Wednesday, April 2 at St. Mary's College at 7 p.m.

"He was a friend of mine," Mullica told SooToday.com. "I knew him for 18 years, and when he died I thought if I didn't do a tribute, somebody else would because he was so popular. I do it because he was a friend and I respect and love him."

As a young lad growing into life on the stage, Mullica followed Skelton's career and developed a style of humour that followed in the footsteps of America's favourite clown.

He worked as a magician from the early 70s through to 1997 when he took on Skelton's stage act.

"When I perform my own material, it's very enjoyable because of just that. Ideas are like kids - there's none better than your own," Mullica said. "But I'm also very flattered and privileged to do this tribute to Red because he was such a great man."

"If I gave advice to anybody, it's to pick something that you like to do and figure out how to make a living doing it," he said.

Mullica is lucky enough to have always made a living doing something that he loves.

An although the memory of Red Skelton's influence and comedic prowess seems to be fading, Mullica says he has no plans to retire any time soon.

"This was definitely easier 17 years ago because his popularity was still fresh and he had just passed away," he explained. "But humour has changed so much in the last 17 years. If Red were alive today, he wouldn't believe what happened to television. He was always a super clean comic."

Tickets for Tom Mullica's Good Night and May God Bless - A Tribute to Red Skelton may be purchased for $37.50 (plus taxes and fees) at Stones Office Supply on Queen Street.

This is a family-friendly show suitable for all ages, and features a cast of favourite Red Skelton personalities.
Sault Ste. Marie is the first stop on a tour that will make appearances in a number of Ontario cities, including Sudbury, Barrie, London, Guelph, Kingston, and more.
For more information about Tom Mullica and his tribute to Red Skelton, please click here.