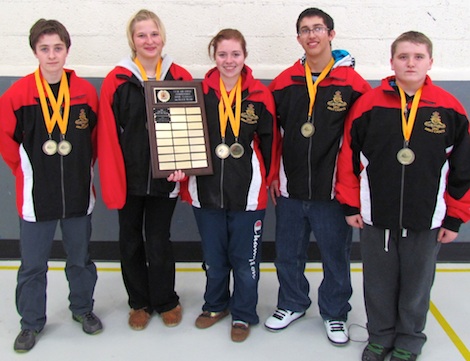 NEWS RELEASE
2310 ROYAL CANADIAN ARMY CADETS (RC(ARMY)CC) CORPS
*************************
Gold Medal for Sault Ste. Marie's, 2310 Royal Canadian Army Cadets (RC(Army)CC) Corps Team from this weekend's Canadian Cadet Movement Marksmanship Series Zone Shoot, (CCM Zone Shoot).
Ten points behind was the team from 155 Borden Gray Royal Canadian Air Cadet Squadron (RC(AIR)CS) who placed second.
2407 RC(Army)CC team, Blind River placed third.
Twenty-seven Cadets from Sault Ste. Marie, Blind River and Elliot Lake using the Daisey air rifle from 10 metres away used their marksmanship skills to hit the competition targets while trying to get the best scores.

Teams made up of male and females, of which two were junior cadets, under 15 years of age and three senior cadets over 15 years of age.
Each team shot two targets per relay with a total of two relays.
Each target has 10 diagrams worth 10 points each.
The top four competitors scores are added together to give the team score.

The top three junior cadets were ranked according to their scores for the Junior Individual award.
2310's Benjamin Date took first place.
Andre Breckenridge, 155 RC(Air)CS, Brittany Andrea Hodder of 46 RC(Sea) CC, were second and third respectively.
In the Open Individual category which could be won by a junior or senior.
Jessica Grandy of the 2310 won first place. Kimberly Amyotte, 2407 RC(Army)CC, second.
155 RC(Air)CC's Sean Clement placed third.
There are three other CCM Zone Shoots taking place in the Northern Ontario Area.
The top two teams with the highest score out of all four will advance to regional competition which will be the top teams from Ontario.

The top two teams from the regional competition will then advance to the National competition.
The Canadian Cadet Movement is made up of male and female cadets, aged 12 to 18 and has three elements, Sea, Land and Air.
Each element trai1. 1st Place Team2310 Army Cdt. Corps. L-R. Benjamin Date, Makenzie Simmons, Jessica Grandy, Richard Mcrea, Connar Lynk. their specific elements interest as well as common training for all three.
For more information on the Canadian Cadet Movement and the exciting opportunities that exist to youth please visit here.
PHOTO (ABOVE) CAPTION: First place team 2310 Army Cdt. Corps., from left: Benjamin Date, Makenzie Simmons, Jessica Grandy, Richard Mcrea, Connar Lynk.
Gallery photo captions, sequentially:
• 2nd. PlaceTeam, 155 Air Cdt. Sqn. L-R Simmons Avery, Sean Clement, Mullins Julie, Andre Brekenridge, Quin Clement.

• 3rd. Place Team 2407 Army Cdt. Corps. L-R. Amelia Bow, Kimberly Amyotte, Corianna Laderoute, Braden Simpson, Emily Roach
• Junior Winners, L-R, 3rd Hodder Brittany, 1st. Date Benijaman, 2nd Andre Breckenridge
• Open Winners. L-R, 3rd Sean Clement, 1st Jessiaca Grandy, 2nd Kimberly Amyotte
• Air Rifle Range set pp Sault Ste. Marie Armoury

• Awards table
• Andrea Breckenridge 155 Air

• Kimberly Amyotte 2407 Army
*************************