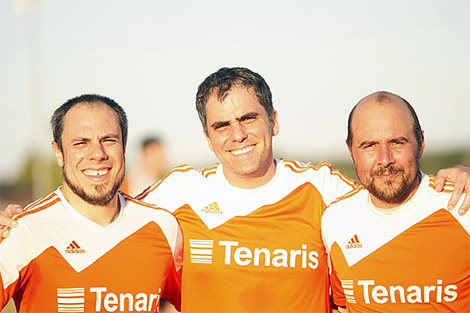 It may surprise some in Canada to discover that soccer (or football as it is called almost everywhere else in the world) isn't just played every couple of years during the FIFA World Cup, for many fans in Sault Ste. Marie it is a year-round passion.
Every four years you start to see those signs of fandom and national pride, people start wearing team jerseys to work and flags go up in windows and on front lawns.
"You see these nationalities come out that you wouldn't usually think of. When you think of Sault Ste. Marie you naturally think of Italy, but now with Tenaris and even Essar we are seeing a lot more of a diverse culture in Sault Ste. Marie and I think it's fabulous. It makes it more exciting," said Sault resident Roy Kreutzberger, who sports a pair of small German flags clipped on to his car doors during the World Cup.

Growing up in Canada to a German immigrant father, Kreutzberger has been following international soccer for as long as he can remember and closely follows the Bayern Munich team as well as Germany's national team, who are playing in the final this Sunday against Argentina.

Kreutzberger didn't think much about Germany's chances going into the World Cup, but his attitude changed as the tournament progressed.

"Once we started seeing Italy and Spain go out I started getting hopeful, because those teams have been our stumbling block for the longest time," he said.
He noted that Germany has never defeated Italy in competitive international play, and did not have to play them this time to reach the finals.

Besides scheduling his life around televised games, Kreutzberger also plays in an over-35 recreation league as goalkeeper for the Muio's team.

"There's guys I'm playing with now that are playing in their 60's, I kind of want to be like that," said Kreutzberger.

Thursday night, after playing an earlier game with his own team, Kreutzberger was asked to play as a substitute goalkeeper for the Tenaris over-35 team, which happens to have team members hailing from Argentina.

One Argentinian player on the Tenaris team, Stefan Stijovic said it is much harder to find Argentinian League games on Canadian television, compared to European games, but he watches what he can.
"I watch a lot of the World Cup," said Stijovic.
The Argentinians on his team also played soccer as children, and have brought that passion for the game with them to Sault Ste. Marie.

"We play in summer and indoors as well. Pretty much all year long," he said.
For them, watching the Argentinian national team team can be compared to the Canadians watching our national hockey teams, but in other countries like Brazil the players take on an entirely different level.

"They are the gods," said Stijovic.

The Canadian Broadcasting Corporation (CBC) reported Thursday that the semi-final game between Argentina and the Netherlands averaged about 3.1-million viewers and was the most-watched game so far in the tournament.
The CBC has at least two guaranteed viewers for Sunday's finals game in Kreutzberger and Stijovic, just don't call them on the phone during the game. They probably won't answer.
(Photo: (L-R Mauricio Bruno, Stefan Stijovic and Daniel Harmsen are Argentinian-born players on the Tenaris team seen Thursday July 10, 2014 at Strathclair Fields. SooToday.com/Kenneth Armstrong)