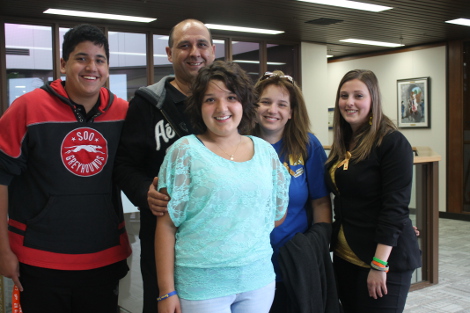 With 15-year-old cancer survivor Angela Campioni in attendance, Mayor Debbie Amaroso proclaimed September as Childhood Cancer Awareness Month in Sault Ste. Marie at City Council's meeting Monday.
Angela is pictured at centre with her brother Jonathan, father Dominic, mother Celena and Sudbury-based Northern Ontario Families of Children with Cancer (NOFCC) Volunteer and Fund Development Coordinator Dayna Caruso.
Caruso encouraged Council and the community to wear a gold ribbon in recognition of Childhood Cancer Awareness Month.
As reported earlier by SooToday.com, the NOFCC has been in operation for 15 years, while receiving very little recognition for its efforts.
Caruso's position is the only paid position within the organization, funded by the Ontario government.
Unlike many other not-for-profit groups dedicated to fighting cancer or other diseases, the NOFCC gives 100 percent of the money collected through its fundraisers directly back to families in the communities the group serves.
Caruso told us: "We don't like taking money off the top to pay for a lot of staff members," relying instead on a strong volunteer base that organizes fundraisers for NOFCC.
The NOFCC serves communities from Parry Sound to the Manitoba border and offers no less than12 support programs to meet the needs of families affected by children with cancer, many of them associated with the staggering cost of medical travel.
Caruso praised the efforts of Ken and Sandra Belanger as fundraisers for NOFCC in Sault Ste. Marie over the past two years.
Caruso said the recent Miss Northern Ontario Pageant raised $46,000 for NOFCC, while a Father and Daughter Ball in Sudbury, in which girls from six to 12 years old dressed in fancy gowns dined with their fathers and enjoyed entertainment by acrobats, raised $27,000 for the organization.
Caruso and the NOFCC are aiming not only for greater awareness and financial support to help families of children affected by cancer, but also a determined effort by bureaucrats to put more money into developing more effective treatment for children stricken by cancer.
"The Canadian Cancer Society only puts 2.4 percent of all their research dollars into pediatric cancer research, and the Ministry of Health only puts 3 percent of their overall cancer research budget into pediatric cancer research," Caruso said.
"That's just not enough."
In addition, Caruso told us the NOFCC hopes that eventually there will be a Northern Cancer Care Centre for children.
As things currently stand, there are only two beds currently available for children with cancer (located in Sudbury), with parents facing the enormous cost of travelling to Ottawa, Toronto or London many times in order for their sick children to receive treatment.
National landmarks such as Niagara Falls, the CN Tower and the Peace Bridge will be promoting Childhood Cancer Awareness Month by shining gold lights.
"There is a national awareness happening, and we encourage Sault Ste. Marie and all of Northern Ontario to be part of that campaign," Caruso said.
Also at Monday's Council meeting, Mayor Amaroso proclaimed September as Ovarian Cancer Awareness Month, in which the public is asked to be mindful and supportive of the battle against that form of cancer by wearing a teal ribbon.