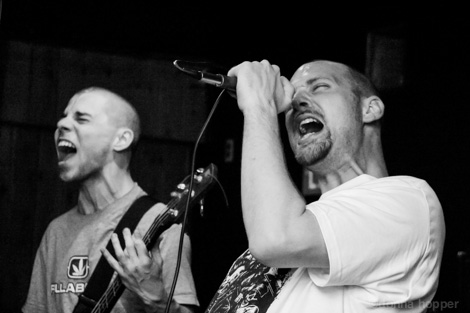 This past Thursday marked the launch of Heavy Thursdays hosted at the Roosevelt Hotel (306 Korah Rd.) by Johnny Pints Presents.

On the evening's ticket were The Bear Hunters, Punch, and The Elements (pictured) who made their public performance debut that night.

Johnny told SooToday.com that he began Heavy Thursdays to offer local and touring metal, punk, and hard rock bands a regular spot to perform in Northern Ontario.

"The Bovine in Toronto books punk acts on Tuesdays and a lot of bands coming from out west play down south on Fridays and Saturdays. So Thursdays make sense for tour routing," he said.

"Robin and the rest of The Rosie staff have been great for supporting heavier music," he continued. "The amount of talent that's been through there and played that stage is staggering."

Some of those acts include 3 Inches of Blood, The Ripcordz, Striker, Dayglo Abortions, and The Creepshow.

Although Johnny says the intension of Heavy Thursdays is to highlight local heavy music, he has confirmed shows at the Roosevelt Hotel with Die Mannequin and Bumpin' Tacos.

"I hope local artists are able to use the contacts they make with out of town bands to help them accomplish their goals," he explained. "I hope to do shows most Thursdays, but it will depend on interest from local acts and concert goers."

Johnny Pints Presents will also host Canadian heavy metal band Anvil at the Canadian Night Club (410 Pim St.) on Saturday, March 15.

Special guests that night include CAYM, Jack Spades, Pillory, and Project 421.

Advanced tickets are $20 and may be purchased at the Rad Zone, The Knights Inn front desk, or from members of Project 421.

Tickets are also available online here.

Keep up to date with all Johnny Pints Presents Heavy Thursday events by following the action on Facebook.