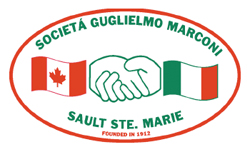 NEWS RELEASE
MARCONI CLUB OF SAULT STE. MARIE
*************************
Marconi Club Hosting Italian Arts & Crafts Show & Sale
The G. Marconi Society continues its 100th Anniversary celebration this weekend with an Italian Arts & Crafts show & sale.
The event takes place at the Marconi Club and features works of local Italian artists.
The public is invited to attend Saturday September 22nd, from 11 am to 8 pm and Sunday September 23rd from 11 am to 5 pm.
Brunch is also available on Sunday in the downstairs lounge from 11 am to 2 pm.
Reservations are recommended.
For more information, contact the Marconi Club office, 705-942-5556.
*************************