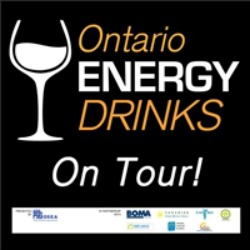 NEWS RELEASE
ONTARIO ENERGY DRINK
*************************
In the wake of the recent announcement of a June election, OSEA is taking our popular networking social on the road.
Join senior leaders in the sustainable energy industry, network with your Provincial political leaders and discuss sustainable energy development in the region and how it can help power prosperity for good jobs, resilient communities and a healthy environment.
This event will take place Thursday, June 5, 2014 at Algoma's Water Tower Inn & Suites, 360 Great Northern Road.
Provincial candidates will have a chance to tell you their party's plans for economic growth and job creation through the development of the sustainable energy sector.


Ontario Energy Drinks, OSEA's popular networking event presents reception cocktails and locally sourced gourmet appetizers in four unique venues in May and early June.
Get tickets at http://go.ontario-sea.org/oedtour.
Join us at the event happening in your city!
*************************