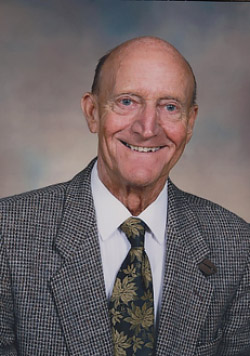 SooToday.com has received the following notice from Laurie Masters regarding the death of her father George Masters, local business owner and World War II veteran
Masters was awarded the prestigious Skipper Manzutti award by the Sault Ste. Marie Chamber of Commerce in 1986.
*************************
At peace from the ravages of dementia, George passed away at Caressant Care McGlaughlin Nursing Home in Lindsay, Ontario on March 11, 2014 at the age of 89.
He joins in spirit his wife Verna.
Treasured father of Vivian (Mike) Warren and Laurie (Sandra Orosy) Masters.
Dear Poppa of Viv's boys Randall and Peter Warren and dear Gramps of Brian's children, Todd Aistrop and Corey Rice.
Predeceased by Verna's older children Brian, Clifford and Cynthia Aistrop who came into George's life as young teenagers.
Survived by brother Reg in Scotland and predeceased by sisters Joan and Norah, brothers Ron, Bill, Roy, Paul, Don and infant brother Ken; all of England.
George is remembered fondly by his 6 nieces and 13 nephews.
A dedicated Freemason, member of Keystone Lodge and past District Deputy Grand Master of Algoma East Masons, he will be remembered by dear friend George (Sandy) Marr and other Masonic brethren with whom he journeyed.
A Veteran of WWII in the service of the British Navy, George followed his father as a gifted welder.
He operated a successful weld shop in post war England, and brought his extensive knowledge and talent to Canada from Dursley, England in 1951.
George was a true Northern Ontario entrepreneur who in 1963 founded Master Welding in Sault Ste. Marie, sold in 1979 as Air Liquide's largest Ontario distributor, with a branch office in Sudbury and depots across the north.
He also founded Northern Fire and Safety in Sudbury, later changing its focus from service and name to PemAll Fire Extinguisher, importing U.S. components to assemble fire extinguishers.
His 1979 retirement was short-lived.
In 1980 he moved PemAll to the Sault, changing the focus from assembly to manufacturing, starting with the cylinder.
A 1983 name change to DDI Seamless Cylinder International meant George was fully committed to manufacture steel pressure vessel cylinders for export with a scope well beyond fire extinguishers.
Many ups and downs followed but George and his dedicated crew persevered and succeeded.
In 2009 the assets were sold to its largest customer and with regret, Seamless closed.
Always the entrepreneur, in his mind George continued to run his various businesses until he drew his last breath.
Cremation has been arranged by Mackey Funeral Home of Lindsay.
A memorial service to honour and remember this great man will be held in Sault Ste. Marie this summer and his ashes placed with Verna's in McGregor Bay at the summer home they loved so dearly and where daughter Laurie now lives.
An announcement as to date, time and place will be made once set.
Think of George when you see his great passions - a stunning sunset, a beautiful hibiscus flower or the price of gold rising. Condolences may be left on line at www.mackeys.ca
*************************