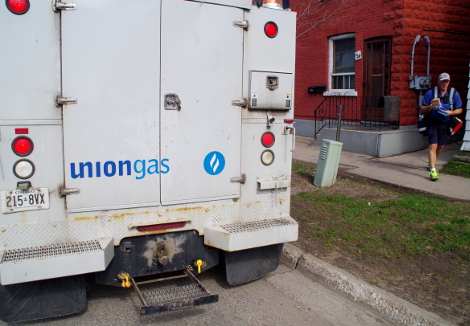 11:40 a.m. update
A Union Gas official says this morning's odour was caused by a release at its primary facility on Base Line around 9 a.m. where maintenance work is being completed.
The official said the release consisted of Mercaptan, the odour-causing agent that is added to natural gas to aid in detecting leaks, and was not combustible.
Union Gas emergency response crews were dispatched to reports of gas odours this morning, but the issue has been repaired.
10:30 a.m. update
A natural gas odour detected in the downtown area this morning appears to have dissipated.
There is no official word on what might have caused it or where the smell originated, but firefighters and Union Gas officials could be seen checking out various areas downtown.
The odour could be detected in the Queen and East Street area as well as by residents in the Queen Street West area.
A Union Gas official said there is not believed to be any danger to the public.
SooToday.com will continue to update this story when more information is available.
Original story 9:30 a.m.
Firefighters are currently responding to reports of a strong natural gas smell in the city's downtown area.
Reports of the odour are widespread, from East Street to the Greco Pool area.
No further information is available at this time.
Keep checking SooToday.com as we update the situation.
(PHOTO: A postal worker walks past a Union Gas truck on Queen Street West this morning. SooToday.com/Michael Purvis)