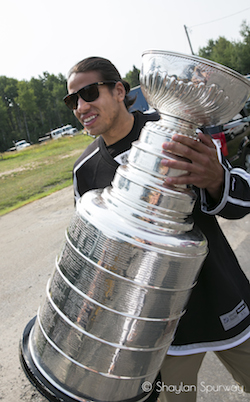 An excited crowd turned out this morning as the Stanley Cup made its second trip to Garden River First Nation in three years with L.A. Kings forward Jordan Nolan.
LOCAL2 cameras were there and reporter Shaylan Spurway caught up with Nolan.
The NHLer and former Soo Greyhound spoke about his second Stanley Cup win.
"Watching my family and friends enjoy (the cup) this time is really special," said Nolan.
"It's obviously nice to see (the kids enjoying the cup visit). Garden River shows me a lot of support during the season and they're always reaching out and giving me their best," he said.
The return of the cup was a big event for Garden River, and Jordan's father, Ted Nolan, said he sees it as an inspiration for youth in the community not only in sport but in whatever they choose to do in life.
"It's been one crazy year," said the elder Nolan, the current head coach of the Buffalo Sabres and storied former coach of the Soo Greyhounds. "I never thought I'd find myself back in the NHL, but I thought maybe Jordan could win another Stanley Cup with the L.A. team, so it's a great day for him and a good way to celebrate here in the community."
He said "a whole whack of people" are expected to travel to a Dec. 9 game between the Sabres and the Kings.
"It's going to be hard when you compete against your son but that's just the way it is right now," said Ted. "I'm just really happy for him and what he's gone through and where he's gotten to in his career."
For more on the cup visit, check out tonight's LOCAL2 newscast for highlights and stay tuned for a feature video.
(PHOTO: Jordan Nolan carries the Stanley Cup through his home community of Garden River First Nation. Shaylan Spurway/SooToday)