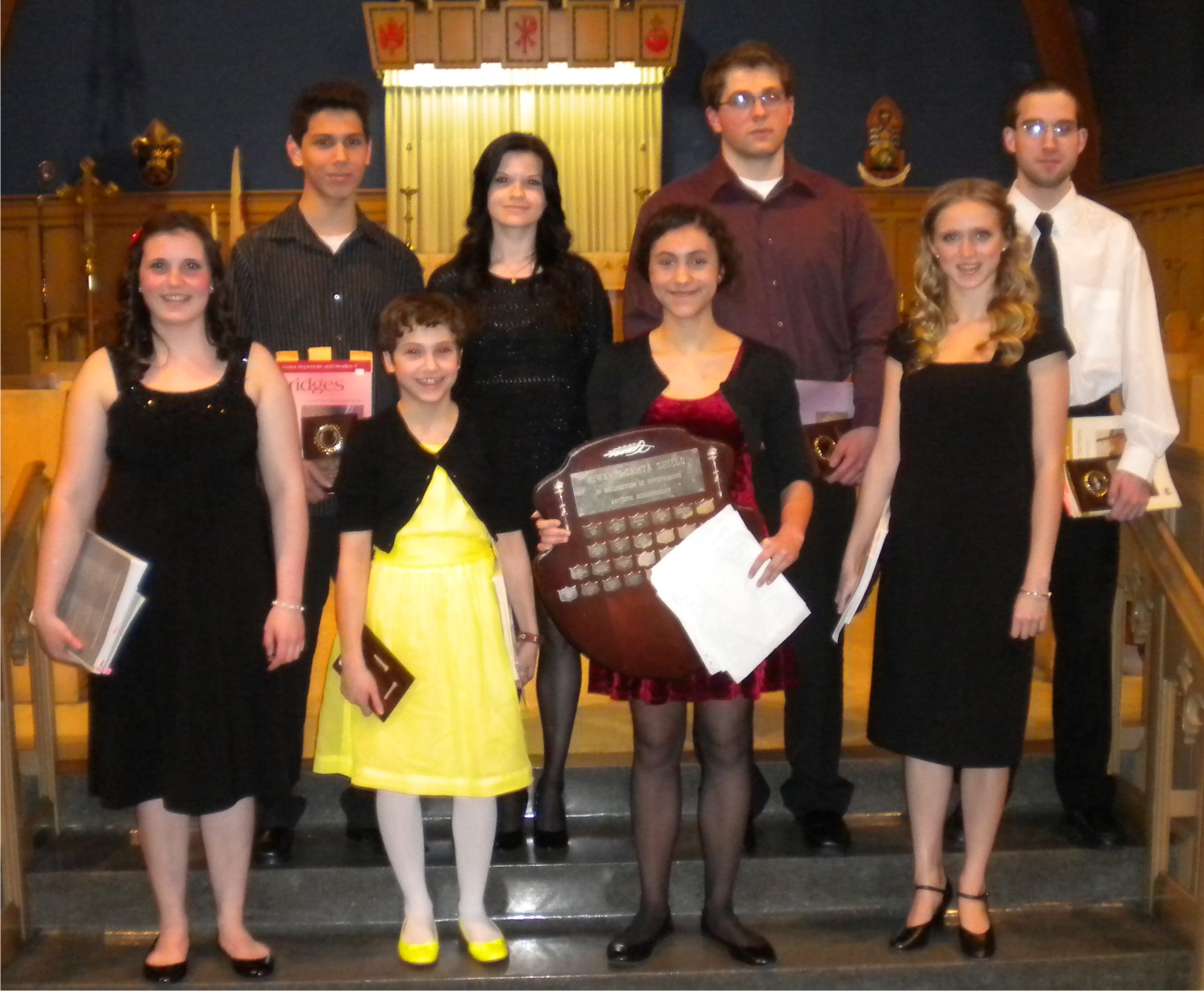 NEWS RELEASE
ALGOMA CONSERVATORY OF MUSIC
*************************
2014 Shield Awarded to Gabrielle Turgeon
The 2014 Sault Ste. Marie Music Festival (formerly Kiwanis) concluded on May 4 with the Shield Competition at St. Luke's Cathedral.
The top one or two students in each division are chosen by the guest adjudicators to participate in the Shield Competition where they compete for the festival's top prize and a $500 scholarship.
Participants this year were: Liam Croswell (piano); Hannah Nicoletta (piano); Gabrielle Turgeon (violin); Meghan Gauthier (flute); Alex Izquierdo (guitar); Carmine Coccimiglio (guitar); Adriane Mallinger (voice) and Victoria Stortini-Snider (voice). Vocalist Maggie Andersen was also selected, however, was out of town and unable to compete.
The Shield adjudicator was noted pianist Charlene Biggs, head of music at Cambrian College in Sudbury.
She holds a Doctorate from the Eastman School of Music.
Following the performances she commented on each performance and then awarded the Shield to violinist Gabrielle Turgeon.
Gabrielle just turned 13 years of age and is a student of Guy Traficante at the Algoma Conservatory of Music.
She performed the 1st movement of Mozart's Concerto no. 5 as well as Praeludium and Allegro by Fritz Kreisler.
In addition to the Shield she won a festival scholarship and was recommended to compete in the Provincial finals at the grade 10 level.
She is currently in 7th grade in the IB program at Korah Collegiate and will be advancing to grade 9 next year.
She is also a member of the Conservatory Concert Strings.
The Sault Ste. Marie Music Festival is in its 77th year.
This year there were several hundred student performances with guest adjudicators from Toronto, London, Sudbury and Vancouver.
There were 85 scholarships awarded and 20 music students and two ensembles were recommended to represent Sault Ste. Marie at the Provincial Finals which will be held in Peterborough in June.
For the past 10 years the festival has been coordinated by the Algoma Conservatory of Music.
(Photo provided by Algoma Conservatory of Music shows From Left to right: Adriane Mallinger, Alex Izquierdo, Hannah Nicoletta, Meghan Gauthier, Gabrielle Turgeon, Carmine Coccimiglio, Victoria Stortini-Snider, Liam Croswell)
*************************