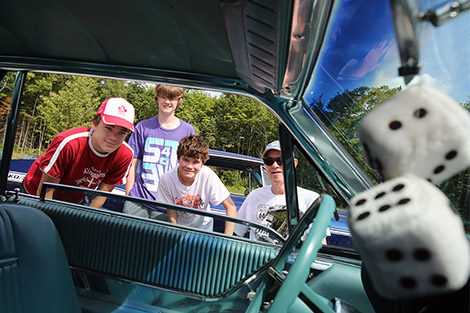 After being rained out two weeks in a row a local "cruiser" group staged a small classic car show on Thursday for the residents of Extendacare Maple View.
Cars on display in the parking lot included a 1931 Ford coupe, a 1967 Ford Fairlane and a more recent Saturn Sky.
"Everybody has been outside talking about it, waiting for sunshine," said resident program manager Amanda Luther.
Residents were able to go outside and reminisce about the cars, jogging old memories of similar cars they may have had when they were younger.
Luther was contacted by Aldo DeLuca, who organizes these kinds of events with his friends and hoped to put on a show at the facility.
The group takes no money for the service, but receive their pay in a different way.
"The most important thing is to show the people these old cars and put a big smile on their face, that's why we're here," said DeLuca.
(PHOTO: L-R Declan, Eamon and Martin MacDougall look at the interior of a classic car while visiting their grandfather Don McFarling at Extendacare Maple View on Thursday July 3, 2014. SooToday.com/Kenneth Armstrong)