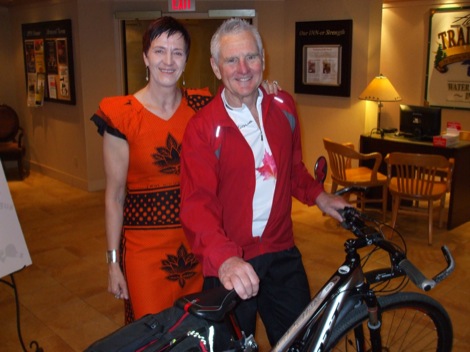 What began as a journey turned into a mission.
Barb Harrison is committed to helping children in Kenya go to school and get an education.
The Sault Ste. Marie woman, an Essar Steel Algoma employee, says "in 2009 I turned 50, and my whole life I said I was going to go to Africa for my 50th birthday."
Harrison says it was supposed to be a one-time only adventure, but now returns to Kenya every year to help children living in the Kibera slum of Nairobi, which is described as an informal settlement with over 1 million inhabitants.
Harrison wants to raise funds to help build a small orphanage and a school in the poverty-stricken region.
"Life has been good to me, and I want to give back."
Harrison says "I helped purchase a piece of land in Nairobi. I came home after my first visit and sold a bunch of my things and purchased eight acres of land there, because many of these children in the slum don't get higher than a Grade 6 to 8 education because they have a boarding school system."
She adds plainly "if the children don't have a school uniform, they don't let them go to school."
"These children will never get out of poverty if they don't have an education. Grade 6 is not cutting it" she says.
Harrison continued "we've raised money to buy three sweater-making machines because the children in Kenya need uniforms to go to school, so we make sweaters and sell them to other schools to raise income to pay for our school."
"We've been struggling with the capital to get the project going after we bought the machines, so we can use the profit off that to run the school, and then keep that capital in the bank for ongoing years so that we're not always struggling to raise money."
Harrison added "we have a feeding program. All of our children come from the slum and we feed them twice a day. Many of those children get only that food per day; they have no other way…their families make one dollar a day."
Joining Harrison in her efforts is well-known Sault Ste. Marie entrepreneur JJ Hilsinger.
With Harrison at Algoma's Water Tower Inn and Suites Thursday afternoon, Hilsinger announced he will help raise awareness and funds for the school and orphanage project by taking an intense 2300-kilometre bicycle trek across Central America.
In fact, Harrison helped him start his journey today with a ceremonial "
push
."
Because Hilsinger will be bicycling an accumulated 130,000 feet of elevation on his journey, the effort has been called "Elevation for Education."
Hilsinger said "I happened to know Barb really well, so why not?"
Hilsinger, who has cycled all over the world, including Africa, said "I'm really fond of the whole notion of Africa and its challenges, and where do you find a person like Barb who has lived in Sault Ste. Marie so long and donated so much of her life to her projects?"
"There's always been a mission to my journeys. We've raised money to raise awareness of things like global warming in the past."
"I find it hard to go away without a mission," he stated.
"We have a charitable foundation called the Canadian-African School Partnership Foundation, and that was a part of one of my other trips…Barb is doing a lot of working with schools, feeding kids and in fact trying to build a new school."
Looking forward to his soon-to-begin journey, Hilsinger said "I've done rides in the past, to some extent a lot more exotic than this one, this one is pretty straightforward."
"We'll have direct Internet connections and we'll be staying in hotels, it'll be kind of cushy, but the big thing is that it's going to be a lot of elevation through the mountains day after day for 25 days."
Hilsinger will be travelling with 20 other riders, from as far way as the Netherlands, Australia and South Africa.
The entrepreneur-adventurer stated he hopes to see $40,000 raised for the Kenyan school project.
There are four different ways to donate.
People may write a cheque to the Canadian-African School Partnership Foundation and mail it to Algoma's Water Tower Inn and Suites, or drop off a cheque at the resort, donate online at
http://gofundme.com/kibera
or drop off a donation at Northern Credit Union branches in Sault Ste. Marie.
Harrison invites the public to attend a meeting Wednesday December 12th at 6:30 p.m. Upstairs at Rome's to find out more about her work.
Admission is $20 and goes to Harrison's work.
Harrison emphasizes "I don't have any organizations behind me."
"I'm just one individual working on these different things because I find sometimes with these big organizations, a lot of the money gets eaten up in the administration costs."
"With me, 100 percent of the money I raise or that people donate goes to these projects only."
"I show people the receipts so that people know what's going on with their money."
Of the Kenyans she works with, she says "there's resilience there, even though there's poverty there beyond anything we understand, there's a joy there, resilience there among the people. They don't see themselves like we see them."
Hilsinger will be at the ancient Mayan Temple at Lamanai in Belize December 21st, 2012.
That date is known as the Mayan Doomsday.
Gloomy prognosticators claim a world-destroying catastrophe will happen December 21st, 2012 as the long-range Mayan Calendar ends on that date.
Not likely, Hilsinger says.
"I'm going to have the courage to stand up and say 'no' there's more good stuff coming, there's hope in the world."
People may follow Hilsinger's progress at
www.youbetican.com
beginning in a few days' time.