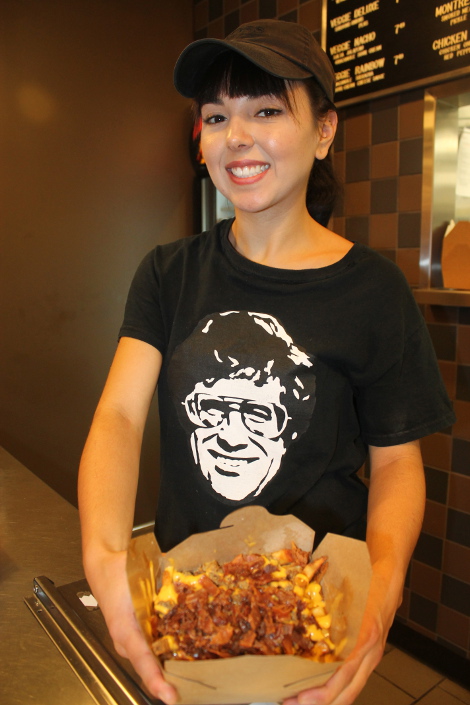 Jauni Deneault (pictured) and the rest of the gang at Smoke's Poutinerie at 648 Queen Street East have a treat in store for the public this Sunday.
The Toronto head office of Smoke's, helmed by founder Ryan Smolkin, has launched its first annual 'World Famous Great Canadian Cross Country Plaid Gravy Train Fries Curd & Gravy Weird Wild and Wacky Poutine Eating Tour 2014.'
Smoke's specializes in poutine, with a dazzling array of toppings for hungry customers to choose from.
The 17-city Canadian tour rolls into the Sault Sunday, appearing at the Roberta Bondar Pavilion from 11 a.m. to 1 p.m.
Admission is free, and there will be free, traditional poutine for everyone.
Voluntary donations of cash will be accepted, which will go to the local branch of Habitat for Humanity.
Far more than serving up free poutine however, the tour offers plenty of entertainment (even if it is gluttonous and unconventional).
Three professional eaters will be on hand to entertain the audience by eating as much poutine as they possibly can within a time limit, performing stunts and taking part in the main event, known as 'Man vs. Beast.'
The Sault's Paul Fowler, who opened up the local Smoke's location in April, told SooToday.com "it will be hilarious to watch."
The three professional eaters for Sunday's event will be 'Furious Pete,' 'Deep Dish' and 'Gravy.'
"We're bringing in 'Furious Pete,' a Canadian competitive eater and body-builder too…I don't know how he does it, all that competitive eating and staying that fit," Fowler said.
Peter 'Furious Pete' Czerwinski of Toronto holds 10 Guinness World food eating records and can devour a 12-inch pizza with a knife and fork in 35 seconds, stuff back 17 bananas in 45 seconds, and put away a 72-ounce steak in six minutes and 48 seconds.
Pat 'Deep Dish' Bertoletti, of Chicago, has been known to eat over 10 pounds of corned beef and cabbage in one sitting, as well as 275 jalapenos.
Tim 'Gravy' Brown, also of Chicago, has eaten over seven pounds of baby back ribs in eight minutes, as well as going through 130 wings, over 28 pounds of pancakes and 38 sausages, all in 10 minute time spans.
"From what I understand (Brown is), the most vocal of the group, but they're all going to be a ton of fun," Fowler said.
The main event Sunday, known as 'Man vs. Beast,' will be an experiment to see which type of creature can eat the most poutine within a set time limit.
Will it be the professional eaters, or three large pigs brought in for the occasion?
The three men will also be taking on the challenge of eating ghost peppers, which, Fowler said, are many times hotter than jalapeno peppers.
Fowler also anticipates a giant slingshot will be brought in for 50-pound potato bag launches.
"These guys are pretty intense and who knows what they're going to come up with…they're into crowd interaction, they're professional performers and entertainers," Fowler said.
"Professional eating is what they do."
Why do the crowds enjoy watching events like these?
"People like to see things they don't think are possible, things they couldn't do themselves…it's part of human nature," Fowler said.
Of course, if watching three men trying to out-eat pigs isn't your thing, you can always visit Smoke's at 648 Queen Street East and enjoy some poutine in a quiet setting at a relaxed pace, served up by Fowler or any one of his friendly staff.
Smoke's Poutinerie has 60 locations across Canada.