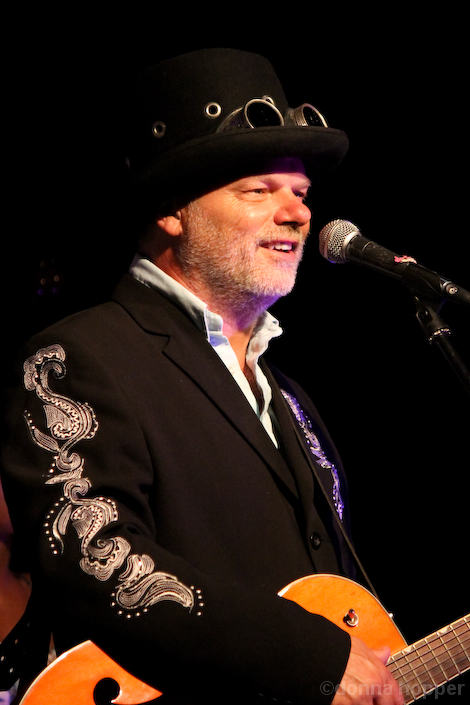 "I'm leaving the music business, and getting back into music," Canadian troubadour Fred Eaglesmith told the sold out audience at Algoma University's Shingwauk Auditorium last weekend.

Touring behind his 19th studio release, 6 Volts, the 55-year-old Southern Ontario native has made life on the road, just that - his life.

The Fred Eaglesmith Travelling Steam Show has more than 200 shows under its belt so far this year, all under the environmentally friendly power of veggie oil.

As a full-time touring band, short and amusing snippets of that road life consistently make their way into every Eaglesmith performance, not just in the form of song, but as signature monologues as well.

The result is a one-of-a-kind experience loaded with laughs, outstanding musicianship, and just enough heartache.

Opting for small shows in small venues in small towns has kept Eaglesmith under the radar for most of his more than 30 years as a recording artist, something he's perfectly fine with.

"We have this amazing life doing our best to not be famous," he told the Sault audience. "And we're winning."

Following a short, lively set from Tiff Ginn, Eaglesmith played a number of selections from 6 Volts, including the title track, Betty, Cigarette Machine, Johnny Cash, Stars, Trucker Speed, and Katie, as well as some older favourites such as Freight Train, Water in the Fuel, Cumberland County, Drinking Too Much, Careless, and Brand New Boy.

If you missed Eaglesmith's recent Sault show, he and the band are scheduled to return to the area to play the Cicada Lounge in the Wawa Motor Inn on Saturday, October 27 at 8 p.m.

Advance tickets are $25 and my be purchased at the Wawa Motor Inn (118 Mission Road) and online at Fred's website.