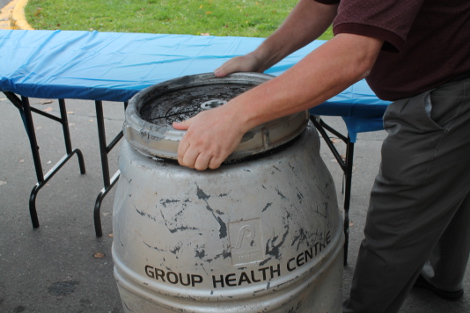 In the words of Group Health Centre (GHC) President and CEO Grant Walsh, pessimists were expecting something toxic and optimists were hoping for bars of gold.
Nothing toxic or golden was found, but some interesting items were discovered when a "legacy barrel" containing items from GHC's past, buried by the facility's administration in 1988, was unearthed Thursday morning.
The barrel (which was buried in 1988 to mark GHC 25th anniversary celebrations that year) was officially opened, after it was dug up from the front lawn of the Group Health Centre facing McNabb Street, in a special ceremony held by past and present GHC administrators and staff Thursday.
Check out our photo gallery to see what was found.
The ceremony was part of GHC's 50th anniversary celebrations, being marked this year.
Another legacy barrel, packed full of today's GHC items, was lowered into the McNabb Street hole and covered over, to be unearthed during GHC's 75th anniversary year in 2038.
"We don't know (what's in the 1988 barrel)," GHC President and CEO Grant Walsh told SooToday.com before it was opened.
"They (past GHC staff) didn't tell us, they just told us where it was, and we brought in a construction company that has a device for identifying where it was under the ground, so we dug it up and we're going to take a look at it."
Contents of the 2013 GHC legacy barrel include a stethoscope, blood pressure cuff, sterile syringe, sterile acupuncture needles, a list of GHC physicians and their hours worked for October 16 and 17, 2013, a group photo of GHC employees with 25 or more years of service, a pad of appointment reminder slips, a sample medical record printout which reflects today's technology, a front desk receptionist headset, parking tokens (one can only wonder what parking fees at GHC and all other paid parking establishments will be 25 years from now!), retired pennies, a computer and mouse, two cell phones (which are apparently out of date already), computer software disks, a map of GHC sites, a screen shot of the GHC website, and other items.
The 1988 legacy barrel's contents were a surprise for everyone in attendance Thursday, including Dr. Fred Griffith, a local optometrist who served as GHC President and CEO from 1964 to 1990.
Dr. Griffith told us: "As far as I know no record was kept (of the 1988 legacy barrel) or who initiated it."
None of the items unearthed Thursday jarred his memory, but Dr. Griffith was intrigued by the barrel's contents.
"There was hope when we started 50 years ago we might enroll 25,000 people eventually, with 30 employees," Dr. Griffith reflected.
Half a century later, GHC has 66,000 enrolled patients, 300 staff and 74 doctors.
Dr. Griffith praised GHC's medical and non-medical staff for the success and growth the organization has enjoyed over the years.
Sault Ste. Marie Mayor Debbie Amaroso, in attendance for Thursday's ceremony, congratulated GHC by stating: "I know that in 25 years you will continue to provide superb health care for the community, and be a shining example for the rest of the province and the rest of the country."
Amaroso joked that the City of Sault Ste. Marie was not responsible for the nasty, black water found in the 1988 barrel.