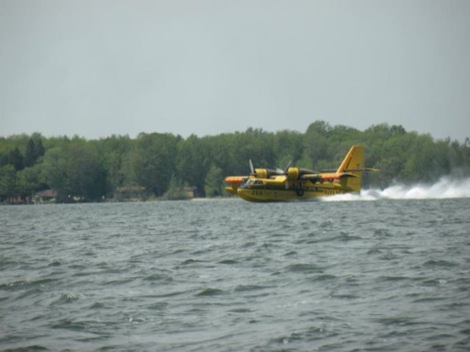 NEWS RELEASE
MINISTRY OF NATURAL RESOURCES
*************************
Northeast Region - Current Forest Fire Update (15:30)

At the time of this report today, there have been no new fires confirmed in the Northeast Region, and excellent progress continues to be made on existing fires.

Cochrane 25 is currently listed as Under Control at 210 has, while ground crews and Helitak continue working on the fire.
Cochrane 26 at 140 has was declared out yesterday.

The Kirkland Lake fires 8 and 13 remain Under Control at this time as progress continues.
Infra red scanning has been done on the fire, and Helitak continue to fly the fire daily to monitor should hot spots arise.

Timmins 9 remains in a state of Being Held.
There are currently 15 ground crews as well as six Helitak working on the fire providing support on hot spots that arise.

At 12 p.m. EDT, June 18, 2012, the Implementation Order within the Timmins District was lifted.
The access roads and area are now re-opened to the public.
We would like to remind everyone that the fire is not out and there are still FireRanger crews working in the area.
The lifted order is subject to change due to weather.

There are currently nine active fires in the Northeast Region burning 47382.5 hectares.
To date, there have been 286 fires in the region burning 48491.3 hectares
Map of Current Fires in Ontario
Active Fires in Table Format
Fire hazard
The Ministry of Natural Resources wishes to advise that there is currently no Restricted Fire Zone in place in the Northeast Fire Region.

Campfires are now allowed for cooking and warmth, but must be tended to at all times.
Keep your campfires small and make sure they are completely extinguished before leaving.
Remember to avoid burning in windy conditions, as fire can quickly spread.
The public is reminded to take extreme caution, as a high hazard still remains specifically in the areas of Sault Ste. Marie, Sudbury, North Bay and south of the French River.

The MNR would like to thank the public for their cooperation during this period of escalated fire activity, and a reminder to check with your local municipality for fire bans they may have in place.
For up to date information on the current status of the Restricted Fire Zone, please call the Northeast Region Restricted Fire Information Hotline at 1-866-357-8422.
Restricted Fire Zone Information
Fire Danger Map in Ontario

Be FireSmart!
For more information, visit here and report forest fires using the toll-free reporting number: 310-FIRE (3473).
*************************