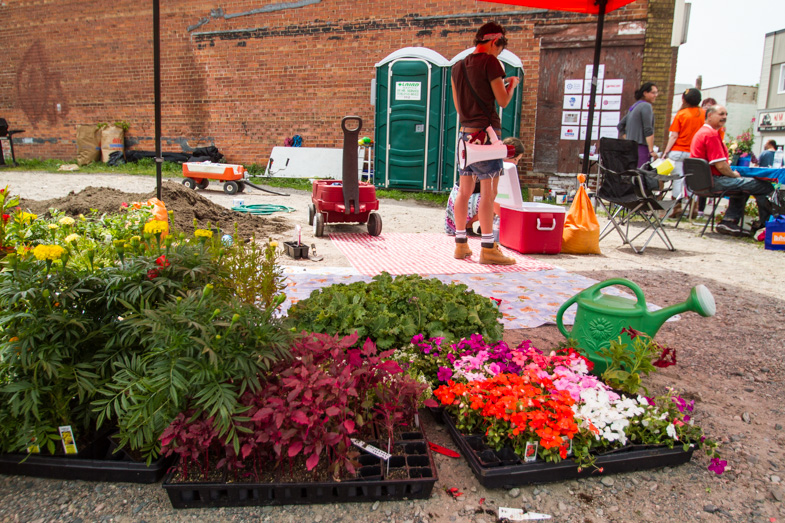 About 150 volunteers took part in Saturday's Gore Street Flower Bomb, a Taking Back Downtown community beautification project.

Throughout the afternoon, volunteers were busy picking up trash, sweeping the street, pulling weeds, cleaning windows, painting storefronts and flower boxes, and planting donated greenery and flowers in order to breathe new life into an otherwise neglected area of the city's downtown.

While the concept of flower bombing is not new, this is only the second time such an event has been organized in Sault Ste. Marie.

The first, which took place last summer with approximately 50 volunteers in the Jamestown area, was met with nothing but positive feedback, Jessica Bolduc told SooToday.com.

She, along with Dana Chalifoux, artist Cameron Dutchak, and Constable Darin Rosseto and Calna McGoldrick from the Neighbourhood Resource Centre were responsible for making the Gore Street Flower Bomb a reality.

"Continually perpetuating a negative image on areas like Gore Street can negatively impact the residents and businesses in the area and can prevent them from improvement," said Bolduc. "These kinds of events are important because it brings people to these areas that might not otherwise visit them. They can see potential, and neighbourhoods and communities come together for a common purpose. It fosters positive energy in the space."

She told us that residents and business owners from the Gore Street area were excited to see the event take place in their neighbourhood, and a number of them came out to take part in the beautification project.

"We hope that these types of gestures on behalf of the community will ensure that spaces like Jamestown and Gore Street are taken care of by our city because there are tax payers in these areas as well. I think sometimes we forget that and they get less attention than other places," Bolduc said.

In addition to the beautification aspect, the four-hour event included live entertainment from Ryan Seabrook, Vaughn Alexander, and Kylie Precepa; a volunteer BBQ; prizes and give aways; and a kids art area, the final products from which are earmarked for display at the new community garden located in Esposito Park.

The taking Back Downtown Gore Street Flower Bomb would not have been possible without the support of the Neighbourhood Resource Centre, The Group Health Centre, Green Grass Yard Care, Prime Cuts, Sault Ste. Marie Buskerfest, Case's Music, New North Green Houses, 180 Projects, Island Inkjet, the City of Sault Ste. Marie, Lyons Timber Mart, Capco Construction, the Habitat for Humanity Re-Store, Premium Landscaping, Rotaract, Sault Ste. Marie Police Service, the United Steelworkers, and numerous individual and private donations.