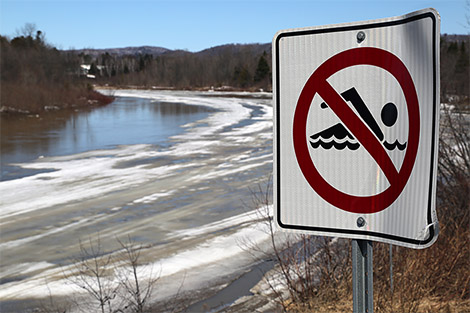 The water on the Goulais River is below flood levels but starting to rise, said Ministry of Natural Resources (MNR) resource operations supervisor Steve Acorn.

"It is hard to predict when or if flooding might occur, as it is very dependent on weather, but the increased snow load within the watershed certainly increases the potential for flooding," said Acorn.

Much of the lower Goulais River remains under ice as of Wednesday, with patches of open water.

Further up the river near Searchmont is a different story, with fast-moving open water pushing ice floes downstream.

Acorn said that these floes could create ice jams, which are concerning.

"The ice is starting to break up along some sections of the river. This could lead to ice dams being formed and water levels could rise very quickly," said Acorn.
Acorn also advises that the public be extremely cautious around ice and water at this time of the year, as ice conditions and water levels on streams, rivers, and lakes can change quickly.

Gert Petrie, who lives along the banks of the lower Goulais River, isn't particularly concerned, hoping the ice will just melt where it is as in previous years.

"You learn to live with it when you live around these parts," said Petrie.

She said that the dry ground has absorbed most of the water on her property.

Acorn recommends that property owners monitor river conditions and make preparations in the event of a flood.

Current flood warnings and water conditions can be found at www.ontario.ca/flooding
(PHOTO: A sign near the bank of the Goulais River, seen April 23, 2014, warns against swimming. SooToday.com/Kenneth Armstrong)