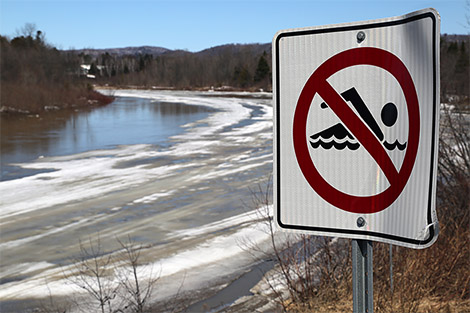 NEWS RELEASE
MINISTRY OF NATURAL RESOURCES
*************************
Sault Ste. Marie District is advising area residents that a Flood Watch is in effect for the Goulais River.
Residents within the Goulais River Watershed are advised that ice jams are a possibility and that river conditions should be monitored closely as water levels can change very quickly if ice dams occur.
MNR is closely monitoring the weather and developing watershed conditions and further updates will be issued as appropriate.
We would like to advise the public to be extremely cautious around ice and water at this time of the year, as ice conditions and water levels on streams, rivers, and lakes can change quickly.
We would urge individuals to stay updated and informed on the current water conditions and check www.ontario.ca/flooding for current flood warnings.
Description of Weather System
For the Sault Ste. Marie area rain is forecasted for Thursday and Friday in the amount of 10-15mm. More seasonal temperatures are also forecasted for the area. This anticipated precipitation and snow melt will lead to increased flows in area streams and rivers.
Description of Current Conditions
The mouth and lower section of the Goulais River remain ice covered. This could lead to ice jams as ice from upper sections of the river start to move downstream and collect at locations where ice remains.
The snow pack within the district still remains high. It is expected that an upward trend in flows will continue over the next several days. A close watch on local forecasts and conditions is recommended.
Terminology: Notification Levels
WATERSHED CONDITIONS STATEMENT - FLOOD OUTLOOK: gives early notice of the potential for flooding based on weather forecasts calling for heavy rain, snow melt, high winds or other conditions
WATERSHED CONDITIONS STATEMENT – WATER SAFETY: indicates that high flows, melting ice or other factors could be dangerous for such users as boaters, anglers and swimmers but flooding is not expected.
FLOOD WATCH: potential for flooding exists within specific watercourses and municipalities
FLOOD WARNING: flooding is imminent or occurring within specific watercourses and municipalities.
A close watch on local conditions and weather forecasts from Environment Canada is recommended.
Environment Canada bulletins can be found at weather.gc.ca/ and the Surface Water Monitoring Centre public webpage can be found here.
*************************
(PHOTO: The Goulais River is pictured on Wednesday. Kenneth Armstrong/SooToday.com)