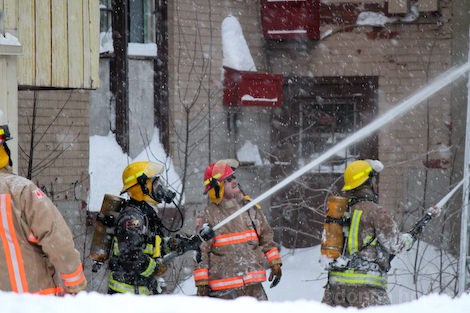 The union that represents local firefighters announced Wednesday it is endorsing Liberal candidate David Orazietti in the coming provincial election.
Progressive Conservative candidate Rod Fremlin, a former city firefighter, is a "great guy" said Rob Greve, president of the Sault Ste. Marie Professional Fire Fighters Association.
But Greve said firefighters can't support the PCs, whose leader, Tim Hudak, has said he plans to slash public service jobs.
"Everything has a ripple effect and I don't know the attack on the workforce is the right approach," said Greve. "It certainly isn't the right approach in our members' eyes."
Fremlin, who is described as a retired firefighter in an early campaign release, could not immediately be reached for comment on Wednesday afternoon.
Greve said in a release the union is backing Orazietti based on his support for firefighters dating back to his time as a city councillor.
Greve said Orazietti and the Ontario Liberals have had a good relationship with firefighters, removing the so-called 'anti-squeegee' law that prevented firefighter boot drives for muscular dystrophy and adding presumptive legislation that marks certain types of cancer as work-related for firefighters.
Greve said that contrasts with downsizing and cuts seen under the Mike Harris Progressive Conservative government.
The PC campaign in this election promises one million new jobs, though Hudak has said he plans to trim the public service by 100,000 workers.
"Government is not just about politics and policies; it's about people and their potential," said Fremlin, in a release on Wednesday.
The following is the release from the Sault Ste. Marie Professional Fire Fighters Association.
*************************
Sault Ste. Marie Fire Fighters Endorse Sault Ste. Marie Liberal Candidate David Orazietti
Sault Ste. Marie's Professional Fire Fighters today announced their endorsement of Sault Ste. Marie Liberal candidate David Orazietti.
"We believe David Orazietti has been a great supporter of fire fighters since his municipal council days," Rob Greve, President of the Sault Ste. Marie Professional Fire Fighters Association, said. "His position on public safety means that he will be able to continue advocating on behalf of fire fighter safety and well-being."
"David Orazietti has worked with us as we asked the provincial government for greater health protection through presumptive legislation, as well as ensuring greater public safety protections."
"We support those who support us," added Mark McKinnon, President of the Ontario Professional Fire Fighters Association.
"There is too much at stake in this election for us to sit on our hands, which is why we will be working for David Orazietti: to ensure that we elect people who understand the important role fire fighters play in our community."
Greve added that, while a retired fire fighter is running for another party, the party platform on which he is running will result in reduced public safety, and that is why the Sault Ste. Marie Fire Fighters are endorsing David Orazietti.
*************************