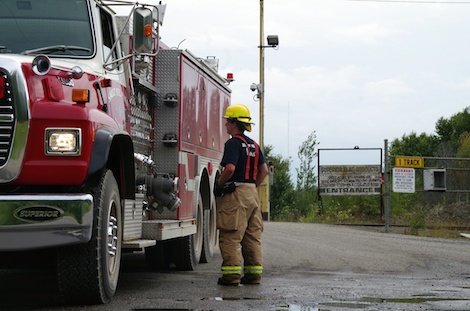 9:15 p.m. update
It took crews from two fire departments five hours to extinguish a blaze aboard a decommissioned 730 foot bulk cargo ship today.
The ship was being cut apart for scrap at the Purvis Marine slip in the Sault's west end.
Prince Township Fire Service joined Sault Ste. Marie Fire Service in the complicated process of extinguishing a blaze started when welders were cutting the ship apart to reclaim the steel it is comprised of.
"It was complicated to get water to the fire because it was inside the hold," said Sault Ste. Marie Fire Service Platoon Chief Damon Ferris. "There was also an issue of some oil remaining in that area so we had to bring in foam as well."
*************************
Original story 5:10 p.m.
Sault Fire Services responded to a fire at Purvis Marine west of Essar Steel Algoma Monday afternoon.
Sault Fire Services told SooToday.com a ship at the site caught fire and crews were still involved extinguishing the blaze at 4:40 p.m.
SooToday.com spotted a Fire Services truck and a City of Sault Ste. Marie water truck at Base Line at 4:30 p.m.
It is believed several fire trucks were called to the scene.
The cause of the fire is not yet known.
SooToday.com will have more details as they become available.
(PHOTO: A tanker truck fills up at a hydrant on Baseline. SooToday)