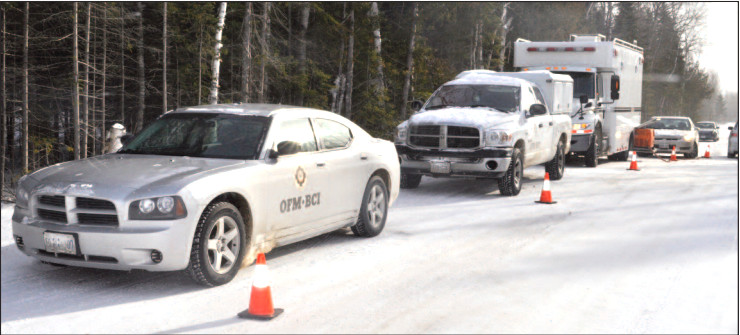 (Photo shows fire investigators' vehicles parked on X Line at the scene of a fire on Monday, January 6. Used with permission from Island Clippings)
OPP NEWS RELEASE
*************************
HILTON TOWNSHIP, ON - On Monday January 6, 2014 at approximately 8:30 a.m. the East Algoma Thessalon Ontario Provincial Police (OPP) were advised of a house Fire on the X Line on St. Joseph Island, Hilton Township.
Fire Departments from Hilton and Jocelyn Townships attended and extinguished the fire.
The investigation is being conducted by the OPP Sault Ste. Marie Crime Unit and Forensic Identification Services Unit (FISU).
Assistance was also provided by the Ontario Fire Marshalls (OFM) office.
The origin of the fire is of a non suspicious nature, however the investigation continues.
*************************
Original story: Thursday, January 9, 6:42 p.m.
SooToday.com staff
Some details are emerging after reports of a house fire last weekend along the X Line on St. Joseph Island.

According to these reports there was extensive damage to the house involved.

Carol Gravalle, a spokesperson for the Office of the Fire Marshall and Emergency Management in Sudbury, confirmed that an investigation is still on-going as of this afternoon, with no indication of how much longer it will take to conclude.

Although the Gravalle would not confirm or deny that there was a fatality in the fire she was able to confirm that a forensic anthropologist is assisting in the investigation.

An inquiry to an East Algoma detachment of the Ontario Provincial Police was not immediately returned.
It is unclear if there is a criminal investigation, loss of life or a missing person at this time.

SooToday.com will bring you more on this story as it develops.
*************************