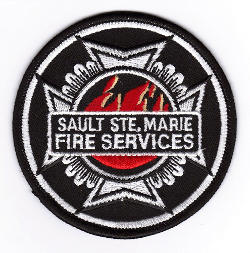 NEWS RELEASE
SAULT STE. MARIE FIRE SERVICES
*************************
A Sault homeowner averted major fire damage when they were alerted to a burning odour in their home.
While searching for the source, the owner discovered contents of a cabinet inside the utility room on fire.
The owner closed the cabinet doors and used a portable fire extinguisher to knock down the flames preventing the fire from spreading further.
Sault Ste. Marie Fire Services responded, ensuring the fire was completely extinguished and cleared the home of smoke.
Upon further investigation, it was found that improperly discarded 9V batteries to be the source of ignition.

"People need to be aware of the risk associated with storage and disposal of 9-volt batteries. If they are not completely dead, the contacts need to be protected so they do not make contact with anything metallic. It's a good idea to cover the contacts with a strip of electrical tape, while not in use," reported Fire Prevention Officer Rocco Celetti.

Sault Ste. Marie Fire Services attended a house fire in January 2011, where similar storage of household batteries was found to be the cause.

Fire Services would like to remind the public that, had this fire occurred in the middle of the night, the outcome would have been drastically different.
These types of fires reinforce the importance of maintaining working smoke alarms on each level of the home and beside all sleeping areas.
**************************