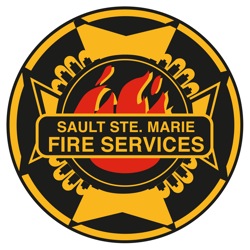 NEWS RELEASE
SAULT STE MARIE
FIRE SERVICES
*************************
Sault Ste. Marie Fire Services (SSMFS) responded to two separate incidents just minutes apart during the morning of June 18, 2014.

Two pumper crews responded to the corner of Albert Street and Spring Street for a motor vehicle accident involving two vehicles.
Fire crews used the "Jaws of Life" to extricate the driver of one of the vehicles who was then transported by Emergency Medical Services (EMS) to Sault Area Hospital (SAH) for unknown injuries.
The driver of the second vehicle received injuries resulting from the accident and was taken to SAH by a co-worker for precautionary reasons.
The extent of the injuries is unknown.

Within minutes of the first call SSMFS responded to a natural gas leak at the Station Mall.
Workers repairing the roof at the Northwest corner of the Station Mall accidently severed a natural gas line.
As a result, the entire mall was evacuated for precautionary reasons.
Fire crews remained on scene monitoring air quality within the mall until the severed gas line was repaired by workers from Union Gas.
There were no injuries reported resulting from the severed gas lines.

SSMFS would like to remind residents whether at home or on the job to always be aware of hazards within your work area.
*************************