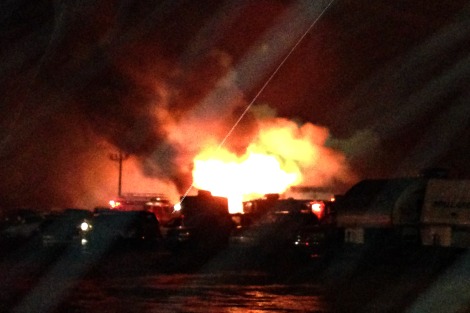 Pictured: B&R Auto Collision engulfed in flames early Sunday evening
7:37 a.m. update
At 5:38 p.m. Fire and Police personnel responded to a fire at B & R Auto Collision at 1116 Great Northern Road.
The building was severely damaged.
There were no injuries as a result of the blaze.
8:10 p.m. update
Great Northern Road is now re-opened in both directions.
The fire at B&R Auto Collision is extinguished.
The cause of the fire is unknown at this time .
Earlier coverage:
SooToday.com has received several viewer reports that a large fire is raging in behind Maitland Motors.
Viewers report the building is engulfed in flames and it might possibly be the B&R auto collision repair and paint shop.
SooToday's attempts to get near the scene failed due to police blockades at Third Line.
Auto body shop fires can release highly noxious fumes and cars filled with gas could explode, which could explain why citizens are being kept so far back.
SooToday will release more information as it becomes available.
**********************************