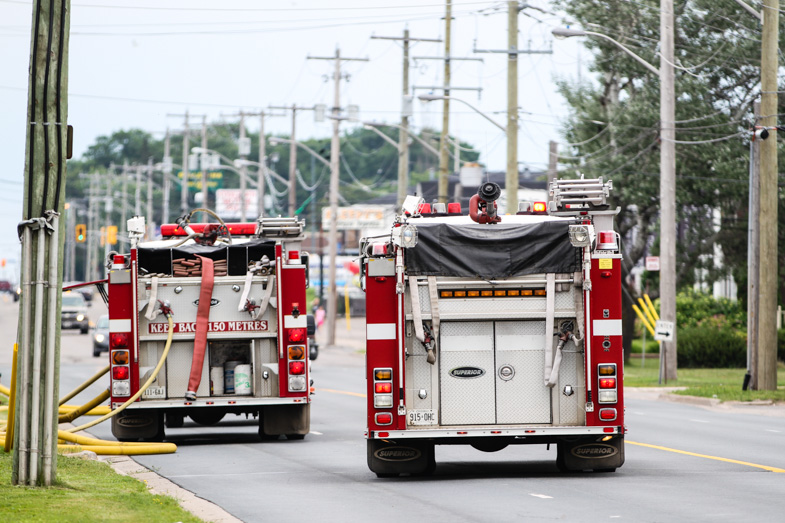 7:45 p.m. update
The fire at Algoma Power Inc.'s facility on Sackville Road started in a vehicle being repaired, says says Algoma Power Regional Manager Tim Lavoie.
The facility located in Sault Ste. Marie on Sackville Road is an auto repair shop he told SooToday.com.
"Something in the vehicle ignited and, when the initial efforts of the person working on the vehicle failed to put out the fire, he called the fire department," Lavoie said. "It's difficult to say at this time how bad the damage was to the vehicle but I expect it was pretty extensive."
There were no injuries, though, and there is no impact expected on business operations at Algoma Power Inc.
7:30 p.m. update
Sault Ste. Marie Fire Service Platoon Chief Richard Pihlaja reports the fire was accidental, small and confined to one of the work bays in the facility.
"A worker was working on some equipment when it caught fire," he said. "The fire was quickly knocked down and a restoration company is on the scene now cleaning up."
Pihlaja said there was only smoke damage and it was largely confined to the work bay that the fire occurred in.
The fire started at about 4:30 p.m. on Saturday.
Original story 7 p.m.
Witnesses at the scene this afternoon reported a fire at the Algoma Power facility on Sackville Road.
"We were in Penny's Pets and saw all the smoke," said Linsay Ambeault.
She said her children, Shaye and Kelsey, noticed it first and also spotted two ambulances in among the many fire trucks that responded to the fire from the Northern Avenue side of the building.
"They said they hoped no one was hurt."
SooToday.com will bring you more information on this story as it becomes available.
(PHOTO: Sault Ste. Marie fire vehicles on the Northern Avenue side of the Algoma Power facility on Sackville Road. SooToday.com/Donna Hopper)