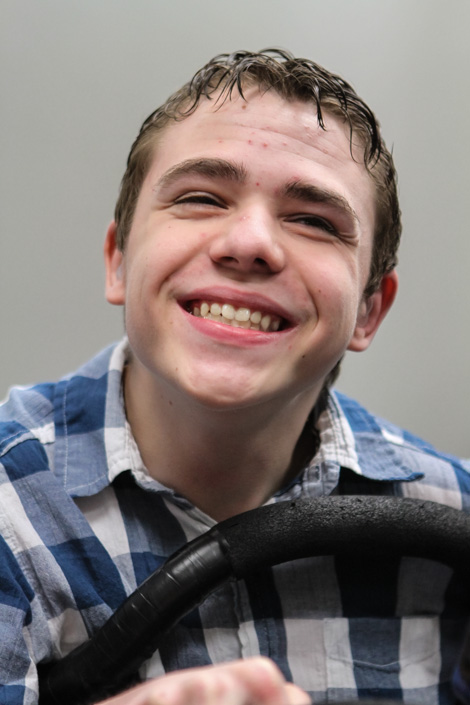 "Thanks for your help," Ben Martynuck (pictured) said with the aid of his Vantage Lite voice output communication aid.

The 15-year-old was born with cerebral palsy, hydrocephalus, and hearing impairment, and is one of the many children in the Sault area who will benefit from the Gavey Pediatric Procedure Room which officially opened today at the Group Health Centre.

Every two or three months, Ben must endure a painful procedure which involves the injection of botox into his legs through a series of needles.

Previously, this procedure was carried out at the Sault Area Hospital and took upward of six hours to complete.

Ben's father Stan told us that thanks to this newly opened facility, that time has been reduced to an hour and a half.

"It optimizes the time and lets us spend time together as a family," Stan said. "The less time we can spend in a clinical setting, the better it is for the three of us, especially Ben."

Completion of the new procedure room and the equipment housed within it are thanks in no small part to the work of Sault native and former NHLer, Aaron Gavey, and his Bell Kicking It Off with Aaron Gavey and Friends children's soccer tournament.

"The whole premise of the soccer tournament while we were running was kids helping kids," Aaron told members of the media today. "To have the final proceeds go towards this room and to see what the room looks like, it's fantastic."

He was joined today by his wife Jennifer, and their three children Josh, Olivia and Elizabeth, who cut the ribbon during today's ceremony with a bit of help from Gary Walsh, executive director of the Group Health Centre Trust Fund.

For a closer look at the Group Health Centre's new Gavey Pediatric Procedure Room and for additional interviews regarding its development and use, please click here.