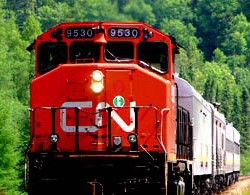 Sault Ste. Marie City Council unanimously approved, at its regular meeting Monday, a resolution designed to address CN Rail's recent, sudden announcement regarding cancellation of passenger rail service between Sault Ste. Marie and Hearst.
CN Rail announced January 24 that, because $2.2 million in annual federal funding for passenger rail service from Sault Ste. Marie to Hearst has been discontinued by the federal government, it has decided to end Algoma Central Railway (ACR) passenger service between the two communities March 31, 2014.
The route is a vital link to private cottages and crucial to the commercial success of hunting and fishing lodges between the Sault and Hearst, most of which can only be accessed by rail.
The resolution passed unanimously by Council Monday calls for Council to convince the federal government (Transport Canada) to continue financial support of CN's operation of the Sault to Hearst rail route for a further period of one year.
That one-year period, the resolution states, would give all stakeholders (the federal government, CN, the City, cottage and lodge owners, supporters of passenger rail service, etc.) a chance to come together and work out a plan to keep the Sault to Hearst line running in the long term.
The resolution calls for a meeting of all stakeholders as soon as possible to form a committee, similar to that which was formed to address CP Rail and Huron Central Rail's intention to shut down rail operations between Sault Ste. Marie and Sudbury.
In that particular case, a working committee of stakeholders, formed in 2009, won a similar one year reprieve, along with federal government funding for one year, while various parties (the federal and provincial governments, communities and industries) came together and eventually, successfully ensured continued, long-term rail service between the Sault and Sudbury.
A report to Council from Sault Ste. Marie Chief Administrative Officer (CAO) Joe Fratesi states the stakeholders along the Sault to Hearst line are frustrated that they have been given "little to no notice of CN's intentions or of the Federal government's position with respect to continued financial assistance for the operation of this rail line."
With members of the Coalition for Algoma Passenger Trains (CAPT) in attendance Monday, Ward Five City Councillor Marchy Bruni stated: "This cancellation must be stopped…CN Rail is talking about the loss of $2 million, but how much money will be lost if this service is cancelled?"
"Just ask a lodge owner," Bruni said.
Bruni, along with other Councillors, expressed his concern over the sudden nature of CN's announcement.
There was a lack of communication from the federal government and CN, Bruni said, likening the situation to the sudden announcement by Canada Post in December of changes it plans in its services.
Ward One City Councillor Paul Christian called CN's policy "absurd."
Christian added, however, that he was optimistic a resolution can be reached.
Fratesi told Council a meeting of stakeholders will be held in the near future.
CN's announcement came not long after its 2013 decision to cease operation of the winter Snow Train from Sault Ste. Marie, despite efforts to promote the tourist attraction with some degree of success.
In addition, City of Sault Ste. Marie staff are now worried what CN has in mind for freight service along the Sault to Hearst rail route.
Fratesi outlined in a report to Council that the Sault to Hearst line will also serve as an important link in the transportation of raw and/or processed materials to and from the proposed Ring of Fire development, as well as a necessary component for the operation of Sault Ste. Marie's proposed deep water port.